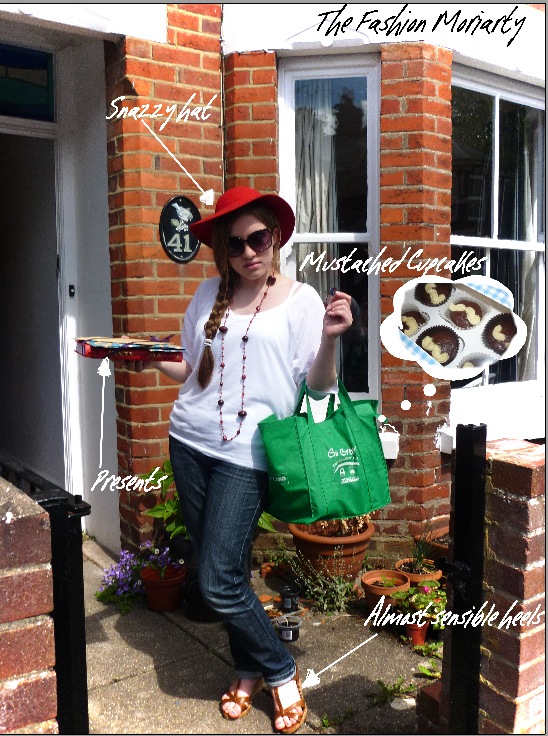 Welcome to my new regular feature, in which I classily demonstrate appropriate outfits and accessories for a range of social occassions, with the aid of my copy of 'How to be a lady' by Candace Simpson Giles.
Today was my friend Oscar's 16th birthday, so we celebrated with a barbecue in his local park. Nothing too fancy, but at the same time, I feel that it's rude to make no effort at all when attending someone's birthday party and turning up practically in your pyjamas (unless it's a sleepover). Hence - My casual outfit with the added glamour of a 30s-esque hat and wedged to add extra height. I had to be able to get up an almost-vertical hill so stilettos were out of the question.
Now, Candace Simpson Giles says that "when a lady is invited to someone's home...she knows to take a gift". Of course this is obvious for a birthday party, which is why I bought a copy of The Dangerous Book for Boys and also a set of fake moustaches (it's an Oscar thing. I'm sure he'll love them). But I felt like I needed something extra. So since I am reading a book called Meet me at the Cupcake Cafe by Jenny Coolgan, which features some cupcake recipes, I thought I'd adapt one to make double chocolate moustached cupcakes (yes, I am aware I have spelt moustached wrong in the above picture):
Double Chocolate Moustached Cupcakes
(adapted from a recipe in Meet me at the Cupcake Cafe)
250ml double cream
400g good-quality dark chocolate
5 eggs
150g caster sugar
150g plain flour
1 tbsp drinking chocolate
1/2 tsp baking powder
Butter icing
140g Soft butter
240g icing sugar
2 tsp milk (or as many as you need to keep it from becoming hard)
Stir double cream and chocolate in a pan over low heat until smooth.
Beat eggs and sugar in a large bowl then slowly beat in chocolate mixture.
Sift in flour, cocoa and baking powder and combine
Divide the mixture between cases. Bake for 15-20 minutes at 180C/gas mark 4 until a skewer inserted into the centre comes out clean. Cool slightly in pans, then put onto a cooling rack for decorating.
Cream the butter then slowly add the icing sugar. Combine the two until you get the consistency you want and taste a tiny bit to make sure the butter:sugar ratio is correct (try not to eat all of it!). Add more butter or sugar as you see fit, then put the icing in a piping bag. Use the bag to create moustaches or other designs on the cakes once the cakes have cooled enough so that they will not melt the butter.
Eat several yourself then place some in a box to take to your party.
Enjoy! They are incredibly chocolatey, like a double chocolate brownie in cake form, so not a good option for anyone who dislikes chocolate!