There is nothing worse than thinking your school day is over, signing out, and beginning to walk home when suddenly an absolutely torrential downpour of rain ensues. It's over after about 6 or 7 minutes, by which time I have been splashed by 2 cars, had to step in 5 ridiculously deep puddles, and possibly ruined my faux-suede black school shoes.
After all that, there can be no better remedy than coming home, changing out of my wet clothes, eating a toasted bagel and watching the ultimate feel-good movie: Legally Blonde. And as I did this, it got me thinking about all the things I know from having watched this movie about a thousand times. Not just law terms and classic quotes, but also moral messages which I think a lot of other films fail to put across without being preachy. This is my list of what I have learnt from Legally Blonde.
If someone tells you that a party is fancy-dress, make sure you check with the host before going for full-on playboy bunny wear
It is impossible to do a half-loop stitch on low-viscosity rayon. The fabric would snag
How to do the bend and snap
Aristotle once said: "The law is reason free from passion"
Never change who you are. Not for Harvard, not for a man, not for anyone. This is a valuable lesson which films like Grease fail to teach us.
You should really have a laptop on your first day of law school... but it doesn't have to be a boring one.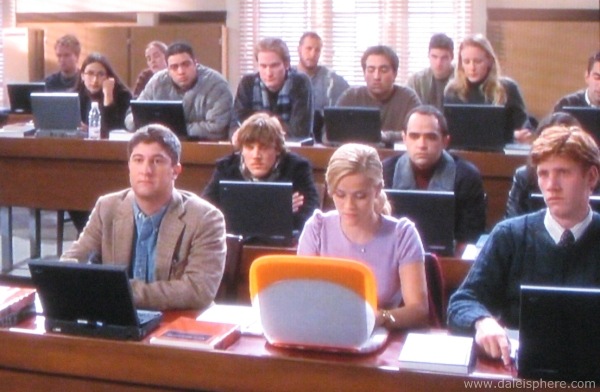 When school isn't going well, your ex is engaged to somebody else and you're thousands of miles from home, find a good manicurist. They will help you through.
Exercise gives you endorphins. Endorphins make you happy. Happy people don't shoot their husbands.
The unlikeliest of sources can be transformed into the most amazing musicals
Never give up. Even if your law professor is a sleaze-bag.
Malum Prohibitum is

a regulatory infraction as opposed to Malum In Se, a dangerous crime. Also, by definition, mens rea tells us that there can be no

crime

without a

vicious

will.

Enemies can often become friends, and people you think you're in love with can turn out to be total boneheads