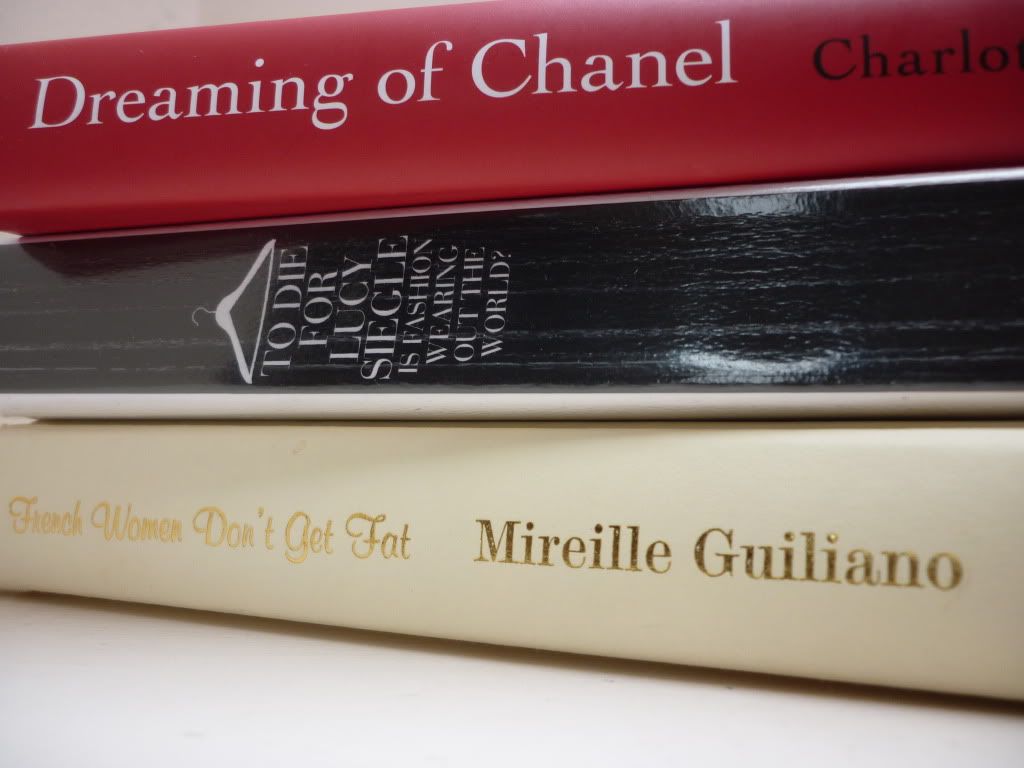 Recently, I've been thinking about my clothes. The ones I used to own, the ones I own currently, and the ones I want to buy.I think this has been brought on by the books I've been reading (pictured above), particularly To Die For, which hilights our obsession with fast, disposable fashion. While I don't think my attitude towards clothes is too wasteful, I am guilty, as most of us are, of buying things I don't need for a quick fashion fix. The other two books, Dreaming of Chanel and French Women Don't Get Fat (the latter purchased out of sheer curiosity) have started to bring me around to a French way of thinking. I am now yearning for the kind of classic wardrobe owned by many a stylish Parisienne. The kind that lasts for a decade or more, and needs only occasional updating with key seasonal pieces. And so begins my quest, and what better way to start it than with a list! One that outlines exactly what I am searching for, and who could be better to illustrate it than Scott and Garance?
Some of you may have read about my first attempt to use a clutch for day, and though it worked OK, it wouldn't suffice for a whole day. I think the key to the ideal day clutch is something rather large, made of soft material in a bright colour, so as to add a hit of cheerfulness to an otherwise monochrome outfit. Then, of course, you can find a nail colour to contrast.
A classic trench
Ah, the trench coat. It has been through so many different incarnations, various cuts, linings, lengths and colours have all been tried out on this timeless piece. But to be truly timeless, it should really be of the original style, and only personalised by you and the way you wear it - rolled up sleeves, tied at the back etc. Though it would be nice to be able to afford one by Aquascutum or Burberry, I have recently purchased my own trench coat, from the humble but nevertheless institutional British high-street store Debenhams.
A white shirt that goes with everything
When I finished school a few months ago, I was so eager to get rid of my uniform that many of my white shirts went straight into the charity bag. This is not something I regret, many were too small or dirty, but it does leave me with a bit of a hole in my wardrobe. The white shirt can always be paired with a skirt, jeans, worn under a dress if it's the right one, or even worn as a dress if it is long enough. I think Garance has said it all in her lovely picture (above).
A wear-anytime blazer
This is one thing I do not really need to look for more of. I currently own one black blazer, two striped ones and one cream one. They are my life-savers, I wear them all the time and yet they sometimes make me feel more formal than I need to be, but I would always rather be overdressed than underdressed. However, I suppose I don't yet have a navy blue one... now where is my purse?
A perfect pair of jeans
Can such a thing really exist? In my experience, the answer is: probably. I have one pair of blue jeans which are as near perfect as it's going to get in the near future. And you know what? I didn't even have to pay through the nose to get them. They are actually from Tammy, a teenage store which used to be popular in the 80s, but now is just an extension of the BHS brand, but I got them second-hand from a friend. I'm not sure, but i think the fact that they had been slightly worn in by someone else is what made them so good. They are incredibly comfortable and I wear them with anything.
A business-like pencil skirt and comfy heels
I have recently developed a thing for pencil skirts (I blame Romola Garai in The Hour) and now wear them out often, even though I have no office job to go to. I am particularly proud of my find at the local car-boot sale: an Yves Saint Laurent skirt and jacket set for just £15! I haven't worn the jacket yet, buyt the number of outings the skirt has been on make it already worth the price. If you are looking for a skirt, I recommend walking around the dressing room in it to test whether it rides up or not.
As for heels, I have yet to come across a pair I can spend more than a few hours in without them giving me hell by the end (except wedges, but they don't count). I have heard that if you really want a comfortable heel, you have to pay for quality, preferably Italian quality.
A perfect Breton or Mariniere top
Finally, there is of course the Breton. As Garance says in her notes (above) it should really come from Brittany to be authentic, but I am not sure I can wait until my next trip to France. To be perfect, it should look well on your shape, so think about what you need in terms of neckline, length, sleeves and stripe thickness. I will be on the lookout for one with a very square neck and 3/4 length sleeves.
And there you have it. Just add a dash of red lipstick, a croissant and an air of confidence et voila! You are now ready to take on the world as a Parisian would. Au revoir!