Some people hate Christmas. Not necessarily the day itself, but certainly the lead-up to it. The constant gift-buying, crowd-fighting, box-wrapping, dinner-planning and outfit-preparing can really get to you, and it can be tough to keep going. This week's IFB project is to provide tips for shopping survival, and I think this is probably the most difficult part of getting ready for Christmas, so in this post I aim to give you a few different plans for having the least stressful time possible, and you can choose which one you like best.
Plan A
Start the day early with your best friend in your favourite cafe. Have a filling brunch, you will need the energy. As you do so, make sure to plan out all the people you need to buy for and put potential ideas next to their names. If you can't think of something for someone, make sure to keep them in mind while you are browsing in case something pops up. Don't give in to panic. Walk with purpose but calmly. Stop at midday for a light lunch and again in the afternoon for coffee and something involving chocolate - perhaps cake? Enjoy the process of shopping and revel in the retail therapy. End the day with a manicure and dinner in somewhere warm and friendly.
Plan B
Convert to a religion which doesn't celebrate Christmas.
Plan C
Stay home in your pyjamas. Make yourself a big mug of hot chocolate with cream, marshmallows and all the trimmings. Keep a stack of credit cards next to you. Watch Love Actually while you work through your list by ordering things from online stores. If you are stuck for ideas, try
notonthehighstreet.com
or
Oxfam
Plan D
Book a long weekend in Paris. Go to the ballet, eat amazing food and climb to the top of the Eiffel tower. Remember at the last minute that you cam here to Christmas shop and order a box of macaroons for everyone on your list.
Plan E
So you're stuck on what to buy? No problem. Everyone loves a classic novel. And if they don't, they're not exactly going to say they don't because 1) it would seem ungrateful and 2) they don't want to look non-intellectual. Plus, though they might already own a copy in one form or another (probably on their kindle) publishers are constantly coming out with gorgeous new editions. Who can deny the benefits of a good-looking book on their shelf? Here is my list of can't-go-wrong classics.
For the man: 1984 by George Orwell, Tinker, Tailor, Soldier Spy by John le Carre
For the lady: Mrs Dalloway by Virginia Woolf, Romola by George Eliot
For the young gentleman: The Picture of Dorian Gray by Oscar Wilde, Brideshead Revisited by Eveleyn Waugh
For the young woman: Wuthering Heights by Emily Bronte, Northanger Abbey by Jane Austen
For the boy: Treasure Island by Robert Louis Stevenson, The Jungle Book by Rudyard Kipling
For the girl: Ballet Shoes by Noel Streatfield, The Secret Garden by Frances Hodgson Burnett
Plan F
Organise the shopping trip with military precision. Bring a few unwilling friends/boyfriends/boyfriends-of-friends and assign each of them a task to be completed by 1200 hours when you will meet at the coffee shop to reload on coffee and receive a new mission. Wear big boots to kick other shoppers out of the way. Avoid stress by focusing on the prize. Reward your team at the end of the day with a glass of mulled wine. Then tell them to drop and give you 20.
Plan G
Begin shopping in advance. It's a bit late for this year, but hey, you could always start at the January sales and stock up on all the gifts you'll need for next year! Of course it's difficult to predict what people will want next year, but buying jumpers, socks and chocolate in bulk is always a good strategy.
Plan H
If you're Miranda Priestley, have your assistant do it for you.
Plan I
Set out with every intention of getting the Christmas shopping done. End up buying this dress for your NYE outfit instead.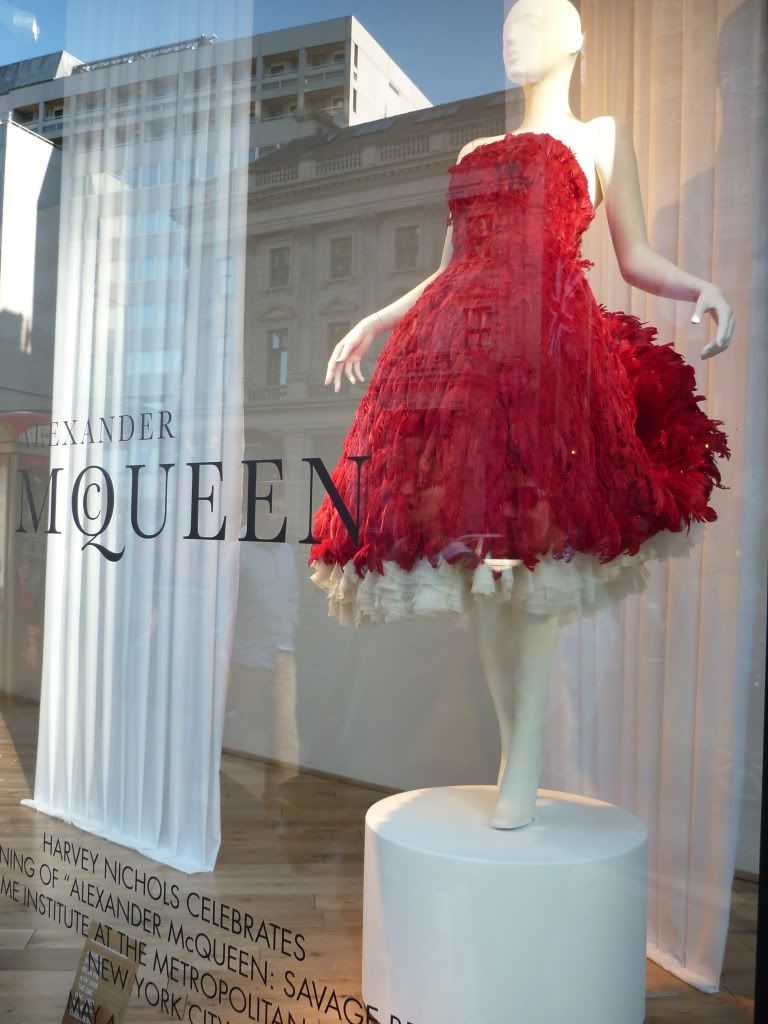 Plan J
So sometimes it can be frustrating when you have been shopping all day and feel like you're getting nowhere. Plus, the aggressive shoppers have made your life hell by not playing by the rules. Now, I don't condone this type of behaviour, but sometimes it could be useful to have a list of their dirty tactics so you can watch out for them... or perhaps employ them yourself...
[]Taking something from someone else's trolley (it's not stealing if they haven't paid for it yet)
[]Padding out your clothes and pretending to be pregnant so people will let you jump the queue
[]Pulling the button off a cardigan and asking to buy it for a lower price because it's damaged, then sewing the button back on when you get home
[]Spreading a rumour that they're putting out the new Sylvanian families set upstairs to get the floor to yourself
Plan K
Buy everyone you know
Tomorrow, When the War Began
by John Marsden. It is brilliant for all ages (above 14) and both genders.
Plan L
If you know you will get stressed over the shopping, just forget it and start making things instead! Foodie gifts for your friends who live close and little craft projects for those who you have to post to.
This is a recipe for Cherry & Coconut Florentines from BBCGoodFood:
140g light muscovado sugar

100g clear honey

200g salted butter

100g desiccated coconut

140g flaked almonds

300g glacé cherries , sliced

4 tbsp plain flour

250g dark, milk or white chocolate , or a mix
Heat oven to 200C/180C fan/gas 6. Put the sugar, honey and butter in a large pan and gently melt together. When all the sugar has dissolved stir in the coconut, flaked almonds, sliced cherries and flour.

Line a large baking tray with baking parchment (about 40 x 30cm), and roughly spread the Florentine mixture out to a thin layer - don't worry if you have small gaps, it should melt together in the oven. Bake for 10-12 mins until a rich golden colour, then set aside to cool and firm up.

Melt the chocolate(s) all in separate heatproof bowls over gently simmering water. Line a second large tray or board with baking parchment and carefully flip the cooled Florentine bake onto it. Peel off the baking parchment. Spread the melted chocolate over, if you're using a few types just leave a gap between each.

Leave aside until set, then stamp out shapes using cookie star cutters - if the cutter is digging into your hands (as the Florentine mix may be a little hard), rest a small plate or pan on top of it and push down on this instead.