Last night, we had the most pathetic smattering of snow. Nothing was cancelled (except for a few wimpy buses) but it was deep enough to start a few snowball fights. Now on a normal snow day most people wouldn't bother that much with what they wear - functionality in order to win snowball fights is the order of the day. But it wasn't really deep enough for that. So it interested me what everyone decided to wear today with a mix of style and snow-friendliness. Here are some of my favourites.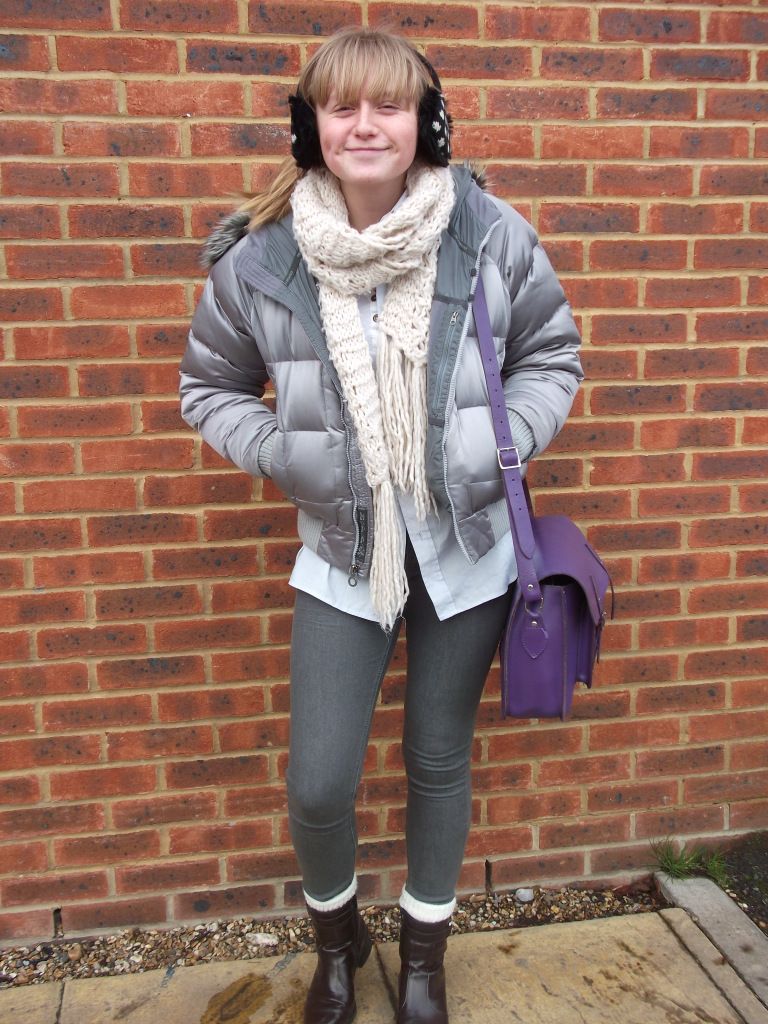 This is Amelia. While she is normally very well-dressed anyway, I was particularly impressed that she could pull off a pair of earmuffs! I also think it's very easy to fall into an odd mixture of different coloured clothes on a cold morning, so I think she's done well to gather an outfit which is so well-coordinated and also bucks the trend of dark colours for Winter.
Issy's floral Laura Ashley Wellies and my green ones
Wellies became acceptable footwear, especially for those of us who walk to college on an entirely uphill route (i.e. me) because it's better to pull a Kate Moss and rock your boots like you're at Glastonbury than to persevere with flimsy shoes and end up slipping and going round for the rest of the day with water on your bum...
Hats and scarves don't have to be boring. Issy had a lovely white woollen hat to match the snow and a cute patterned scarf to add interest to her look. We had a lot of fun frolicking in what was left of the snow during a free period, and while my ears got very cold, I trust that Issy's didn't.
Alex's boot is falling to pieces. I imagine this is due to thorough use, mainly in having a few epic snowball fights on the hill outside. I really like these, they look like the kind of boots you could go on an adventure in or just into town, and they'll probably last for ages - though evidently not for ever.
Oscar, Issy and I took advantage of the lack of people around and went for a photo session outside. The main aim of taking my camera with me today was to record Oscar's new coat (which he must have had for a couple of weeks now. So, I probably ought to talk a little about it...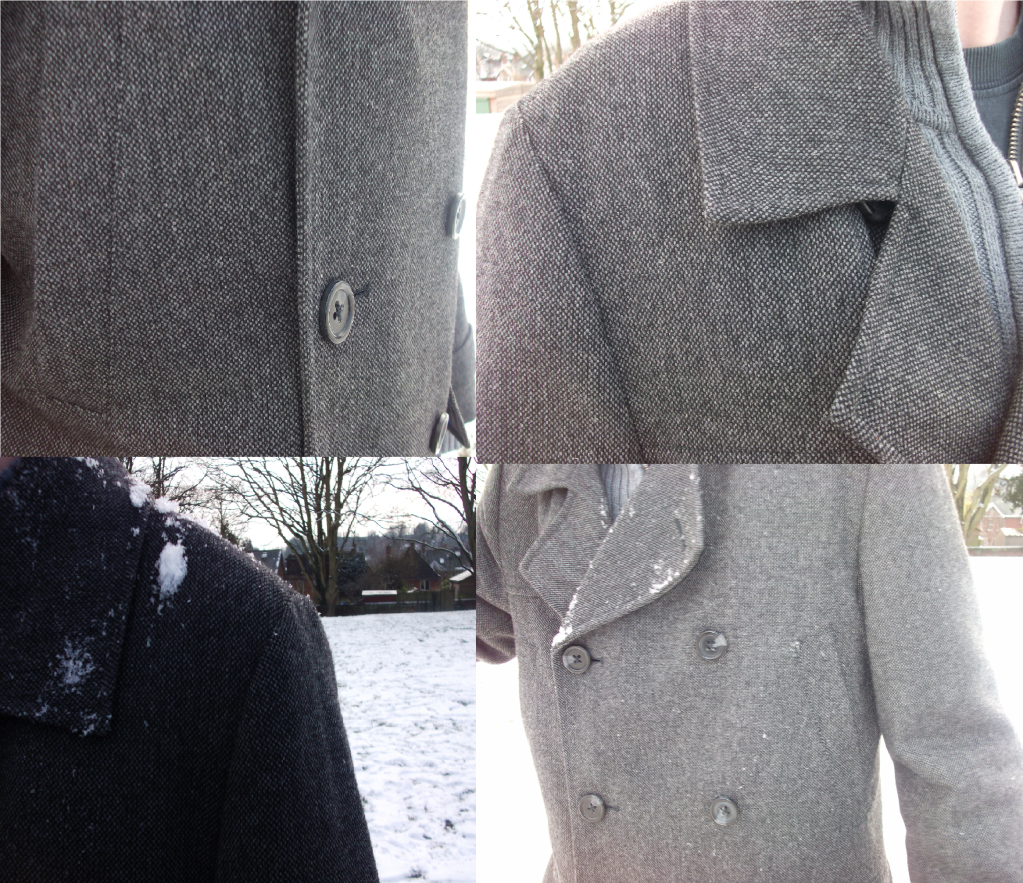 Oscar's coat was elegant the cut was fine.
The tasteful style was the ultimate in good design
And this is why
It caught the eye
A king would stop and stare!
But seriously, while it's fun to randomly quote Joseph and His Technicolour Dreamcoat, I do really like it. There are two different coloured threads in light grey and dark grey running thorough it, so the overall impression is of a mix between the two colours. It is a good shade to wear with anything really, but it's far from boring, because interest is added in the smart collar and buttonhole. Plus, it has pockets - an advantage which much menswear has over any womenswear equivalent. It puts me in mind of two things: Sherlock's coat and the Fall 2012 collection from Berluti menswear.