Marks and Spencer
was featured in the guardian Weekend, and subsequently sold out in most sizes online. I was struck by the interesting use of zip detail, which at the time won me over on its own merit. Since then though, I have seen many similar styles for sale from high-end labels and stores for a lot more than the relatively modest £49.50 of this one. Come on M&S, restock!
Oasis
claims to be merely following a trend. Let's be honest though, it has more than a little bit of resemblance to
that
Prada S/S 2012 collection. But I'm certainly not complaining, since this makes it possible to achieve the runway look for £65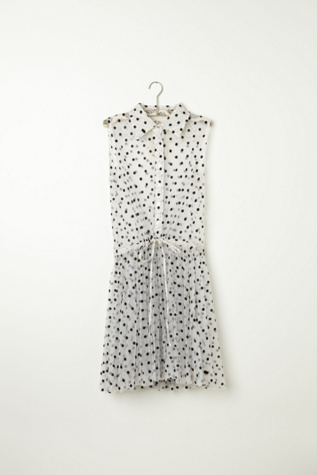 This slip from
Free People
is clearly one to be worn with something underneath it, which makes it ideal for spring. You could style it as they have here, with a crop top and jeans/leggings, or if you have a nice but fairly plain dress of about the same length, you could add this to make it a little more exciting. As is normal with FP, the price reflects the Also, just in case you didn't notice, that's Karlie Kloss on the right. If you have time, check out
her whole shoot for Free People
. It's just perfect.
This reminds me of a John Lewis dress I was in love with a while ago, though this one is a bit cheaper at £14.99 from
H&M
. It doesn't have quite the same tailoring, but maybe it's a good thing to be a bit looser for warm weather. Birds are quite a subtle print really, but more interesting than hearts or florals, so this can be worn with pretty much anything, but I'd probably go for a denim jacket.
Fashion Conscience
I like the 40s feel of this
Antipodium
dress, which it achieves without going over the top with padded shoulders or eye-blurring florals. It's yet another hit for Urban Outfitters' choice of quirky brands. I can picture wearing this on a picnic, to a barbecue or even to work, with a formal-looking belt to smarten it up a bit. And all for only £270!