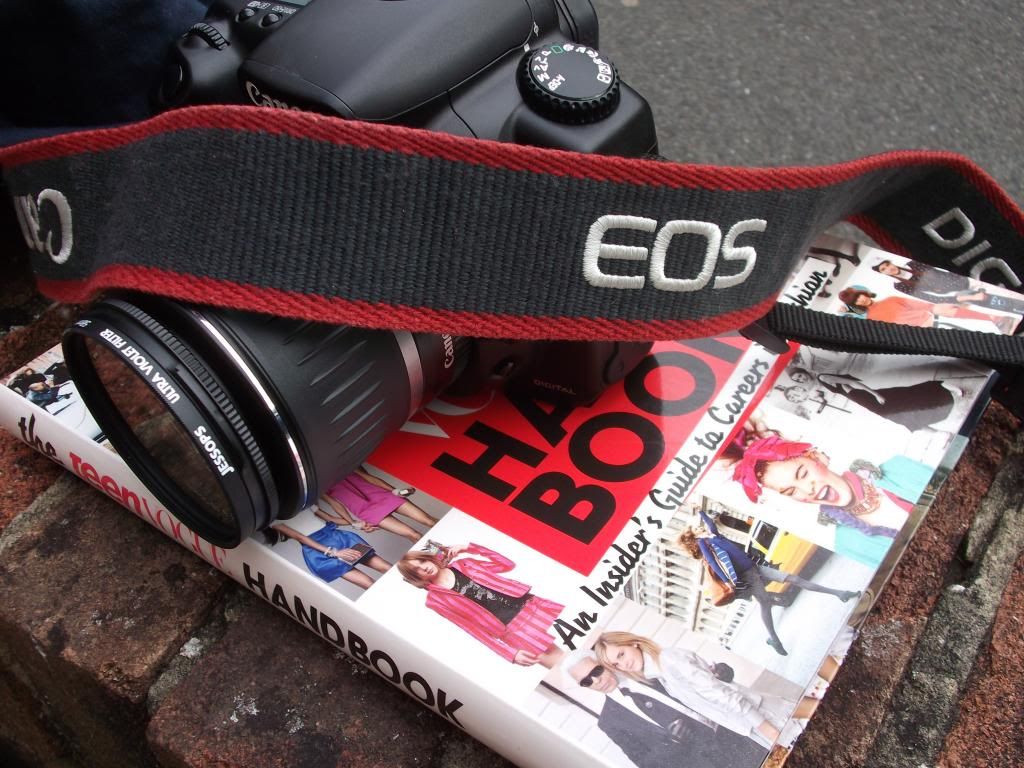 Fellow fashionistas, lend me your diamond-bearing ears! Do you ever feel like you're speaking a different language to those around you? Are you ever frustrated by your friend's lack of excitement over the latest high-street/designer collaboration? Or have you ever stepped back a moment from the world of fashion and found that, yes, this stuff actually is really weird? No wonder nobody understands us half the time.
As for you, friends, family, people who I tried to tell something funny about Valentino last night but then gave up after you asked 'Who's Valentino?', maybe you'll learn a thing or two from this post. If not... well you'll still have to put up with me talking in fashion language half the time, so you may as well know what I'm on about. I know that most of this stuff is pretty odd from the outside, but shed your fashion-muggle status for a moment and enjoy the weirdness.
Why I'm lugging around a magazine the size of a paving-slab
It took me a while to track down this years US Vogue September issue. In the process, I collected both the British and French editions just in case I couldn't get my hands on the American one, but as it turns out I did find it... during an English Literature trip to Stratford-upon-Avon. After I had my tall friend Imogen reach the inconveniently high spot where it had been placed, I was forced to carry it around the High Street, take it with me to an acting workshop, and have it with me as we went in to see
The Tempest.
The most common question I met long the way from my classmates was: "Why is that magazine so massive?!" to which I would petulantly answer "because it's the September Issue!" and subsequently be met with blank faces, as this clearly offered no explanation.
I ended up quoting Candy Pratts Price in
The September Issue
as I tried to enlighten them: "September is the January in fashion." It's when all the Autumn/Winter collections are shown and analysed so that we all know what we'll be wearing during the colder months. When asked why this meant it was only the September issue which was enormous and not, say, the March issue too for Spring/Summer (which it sometimes is, but not quite so big), I realised I didn't know the answer. I guessed and said it was because Winter clothes are heavier than Summer ones. Which I'm sure makes total sense...
Who Anna Wintour is
To be fair, I didn't really know who she was for quite a while, but give me a break, I was 13. It's odd how there are certain people who are only famous within a particular sphere, and then relatively unknown outside of it. The problem is, when trying to describe her role and status, you can't just say 'Editor-in-chief of US Vogue because that doesn't quite cover the extent of her role in the fashion world. It's therefore almost inevitable that you have to refer Miranda Priestley of
Devil Wears Prada
. Yes, there are parallels between them, but I'm pretty sure Anna's never demanded to be flown home from Florida during a hurricane or requested an unpublished manuscript of the last Harry Potter book. That I know of.
How to pronounce Louboutin/Balenciaga/Proenza Schouler
Although to be honest I'm sure I've mispronounced several of these in my time and it's only through watching interviews and documentaries that I actually learned how to say them. The problem is that when you're not properly
in
the fashion industry, you only ever see these names written down. This actually a serious problem; has anyone ever created a phonetic fashion dictionary? If not then somebody should.
Why thousands of people will follow some guy who takes pictures of people on the street
Street style is still a relatively new thing, and there are still several people who don't quite get it. To be fair, this is probably because they have the impression that the fashion industry always revolves around the designer shows and what they display, but it's not really like that any more. The inspiration for these designs doesn't just come from thin air (though in the case of Valentino, it does sometimes come from dreams) it emerges from what people are thinking, doing and wearing at the time. Equally, a lot of things we see on the runway aren't exactly wearable in everyday life, so it's often useful to have some stylish person on the streets interpret the trends in a way that seems reasonable. That's why Street Peeper and The Sartorialist and many others have such a huge following.