If you
follow me on Twitter
at all, you may know that I was only really concerned with one BAFTA last night, and that was Costume Design. Normally I'm more interested in the other awards too but I just haven't seen enough of the films this year to have an opinion on them. Anyway, I was rooting so much for Jacqueline Durran to win for her excellent work on Anna Karenina.
I loved the film
in general but the costumes (in combination with the cinematography) played a huge part in stealing my heart.
But there was definitely some tough competition, and I think it will be interesting to see who comes out top when we get to the Academy Awards. Personally I think that Durran, having been nominated 3 times before, deserves to finally win her Oscar this year. However, BAFTA is sometimes known to be rather on the side of home-grown productions like Anna Karenina, so I thought it would be good to check out the competition in this category at the Oscars.
Les Misérables
Delgado seems not to have had much recognition for his work before, and the costumes in Les Mis are certainly deserving of some attention. From the coats of revolutionaries in a dramatic red (the blood of angry men) to Cosette's adorable ensembles, there's a lot to get right here. Of course, there are the previous adaptations and the stage production to look to for inspiration, but there's no doubt that Delgado has added a little bit of a new twist to give Tom Hooper's version its own identity. I particularly like the clothes worn by Anne Hathaway as Fantine which, though ragged and dirty, are still beautiful. It takes skill to create something which still looks good when it's half-destroyed.
Lincoln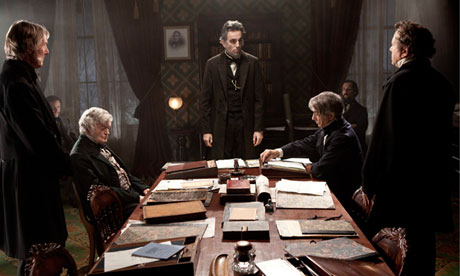 Spielberg's biopic looks like a rather sombre affair and the costumes match that. They are not however to be passed over just because they don't have rich fabrics and bright colours. Johnston is another first time Oscar-nominee, though she has an impressive back-catalog including War Horse and Forrest Gump, both of which I'm sure exercised her skills in designing menswear, which is precisely what is needed here: well-crafted and finely-detailed costumes which evoke the era. Despite that, I'm afraid this wardrobe just doesn't get my heart racing, which is understandable for the type of film it is.
As a supporter of Anna Karenina, I must say that this is the rival which worries me most. It's the only one which wasn't in the running for a BAFTA, so it's difficult to predict how well it will fare at the Academy Awards. The costumes are loud and unashamed and evoke the atmosphere of a storybook perfectly, which is excellent for a retelling of Snow White. I particularly love Julia Roberts' wardrobe, which seems to be heavily Elizabeth I inspired. If Ishioka were to win, this award would be awarded posthumously, as she died early in 2012. She had previously won an Academy Award for her work on the 1992 Dracula.
Snow White and the Huntsman
Oh look another Snow White film! I haven't actually seen this, but the costumes make me really want to. hell, the film can probably be awful and I'll barely notice. Second to a drop-dead gorgeous dress, one thing I love in a period drama or fantasy is a woman getting kitted out in men's armour or hunting gear. This film happily has both! In fact, I had a hard time choosing which of the Queen's gowns to include. Perhaps it's unsurprising that these costumes are a joy to behold, since Colleen Atwood is a 3-time Oscar winner for Chicago, Memoirs of a Geisha and Alice in Wonderland with an impressive CV even aside from these. I think you can definitely see the similarities with Alice in Wonderland, particularly in the suit of armour. This could also put up some serious competition, and justly so, but I imagine Atwood will be happy to concede to a first-time winner if Durran does clinch it.
All images from this lovely tumblr apart from the top one, from the official BAFTA website and the Lincoln one, from the Guardian website.