Map of the V&A
- I've been many times before to the Victoria and Albert Museum, but each time I find something new. This time I ended up in a totally different part than any I'd been in before, which included the jewellery gallery, an exhibition of 60s photographs and a Theatre and Performance section, complete with dressing-up (I love dressing-up. It's not a good museum if there's no dressing-up). I could probably spend a couple of days just wondering around discovering everything.
Sunglasses
- What I love about these is that nobody can see where your eyes are looking, they just reflect their own image back at them, so I can show no emotion in true Anna Wintour style.
Red gloves
- It might be getting sunnier in England but it's still pretty cold. Fortunately I have these leather gloves - a birthday present from last year - to keep warm.
Wallet
- I think this is probably my favourite purse or wallet which I own. Not only is it a good size for money and cards, it also has a very useful map of the underground printed on it! It proved especially useful on our day out, since the entire Circle line was out of use and most of the District line too.
My friend Livvy's iPhone
- because my phone is boring and old and not very photogenic
Pink Moleskine
- I love this size because it slots perfectly into my bag but still has plenty of room to write in. In the front I have notes from lectures and classes while in the back is my own creative writing, because one must always have something sensational to read on the train.
This picture was taken on an outside table at the V&A, where we paused after our adventures throughout the museum to have a mid-morning coffee. Nobody else seemed to be quite as excited about the gorgeous William Morris coffee cups as I was, so I'm trusting my stylish readers to understand what a big deal this is. So here, have suitably cliche picture of me drinking my mocha.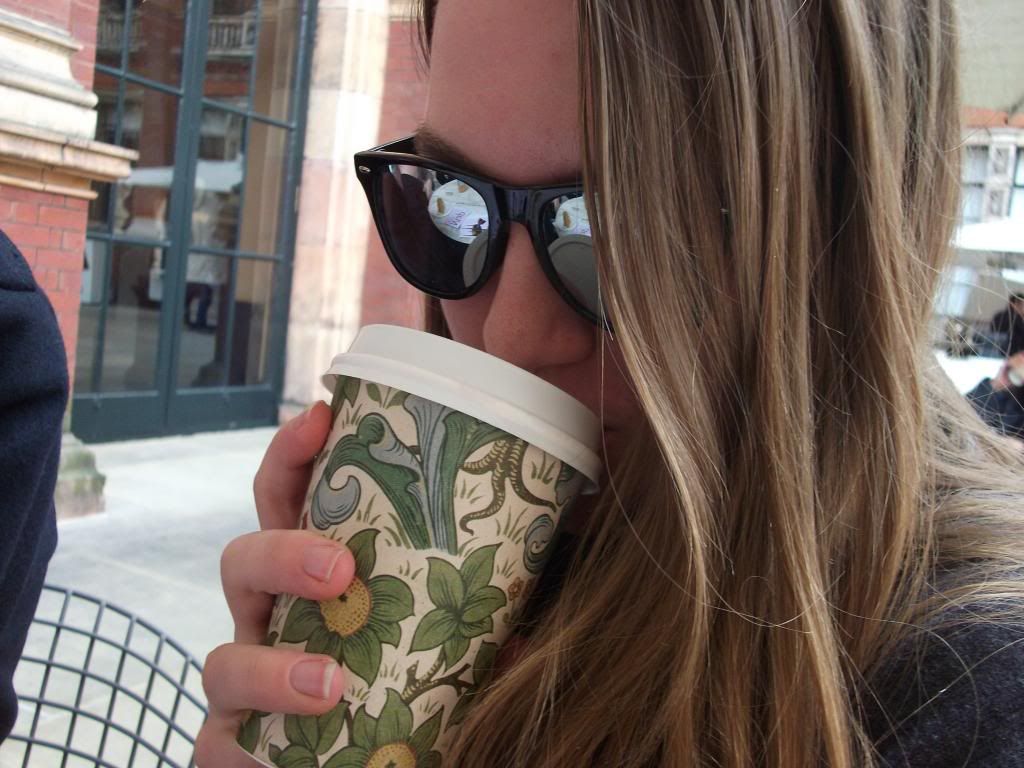 What do you like to do when you go to London? Or have you never been, and there's something you've always wanted to do there?