1. Go for coffee somewhere that isn't Starbucks
, or Nero or Costa. You're in one of the most exciting and varied cities in the world; sample its delights! So what if you pick a bad place once in a while? You'll have experienced something new, and 9 times out of 10 you won't be disappointed. Below, clockwise from the top left is: me having coffee in the
V&A's Garden Cafe
, a Turkish restaurant called
Haz
near St Paul's,
Amoul
in Little Venice, a latte from a travelling coffee stand, and a red velvet cupcake at the
Hummingbird Bakery
in Notting Hill.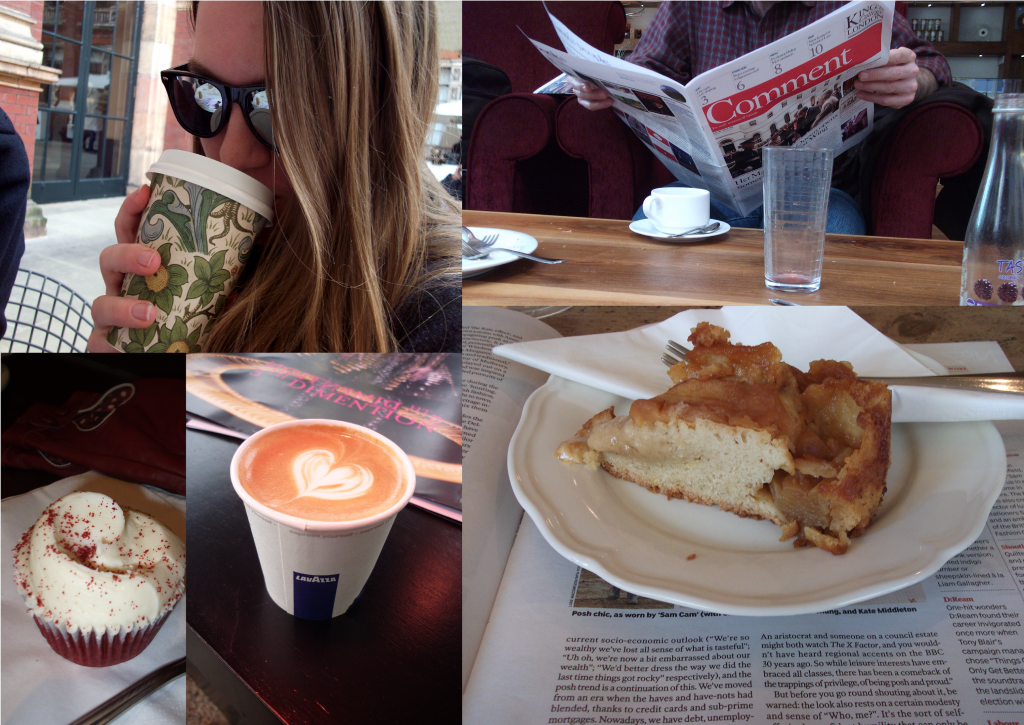 2. Visit the gallery at the National Geographic Store
Who needs the Tate when you can see contemporary photography exhibitions right in the middle of your Knightsbridge shopping trip? Plus you can combine it all with a meal at the cafe, some outdoor-clothing shopping, and a go in that weird wind-simulator thing they have downstairs.
3. Hang out at Somerset House
. I only really started visiting Somerset House because of its association with London Fashion Week and excellent fashion exhibitions. Since then I've discovered the two cafes, the free exhibitions (I've seen ones on city-planning, jewellery, chairs, Matthew Williamson and more), and also the interest of its architecture and history. Not to mention whatever's currently in the courtyard, which could be anything from a catwalk to an ice rink to 10,000 clay flowers.
4. Go on a walking tour
of somewhere you don't know much about. I've been on one of Little Venice, notable as much for its poetic residents (Robert Browning) as its rockstar ones, who live there to be near Abbey Road.
5. Get lost and find a pretty side-street
which looks like the kind of place they'd use as a filming location in a historical drama. Kynance Mews (below) is one of my favourites.
6. Find the dressing-up in a museum
, because every good museum really ought to have some costumes, and not just children's sizes. My friend Oscar and I found the Theatre section of the V&A and were unable to resist a collection of theatrical costumes, including a fab red military jacket. Cue Oscar's Les Mis moment...
7. Go climbing
at
The Castle
,
The Arch
, or
Mile End
. I like The Castle best because it has all these different levels, plus comfy sofas to the side of bouldering mats and a great cafe too. I love how all of these venues have re-purposed old spaces into climbing walls. It makes them feel like hidden gems.
8. Take moody black & white photos of the rain
from a vantage point inside a warm cafe (I recommend the Costa in the Trafalgar Square Waterstones).
9. Sit in the park and read
Mrs Dalloway
,
Bleak House
,
Absolute Beginners
, or one of the other
great books set in London
. Then quote said novel liberally to your friends as you walk around. Personally I quite enjoy shouting
"

There! Out it boomed. First a warning, musical; then the hour, irrevocable." whenever Big Ben strikes. Much to the embarrassment on whoever is with me.
10. Dress up in your fanciest clothes and take the underground. Go all out. It's best in a group of friends, all of whom are dressed to the nines. Then why not finish up your trip by sitting on a bench and sharing some fish & chips. Britain is, after all, one big contradiction of tradition and rebellion. I think there's something of this antithesis in devouring fast food while wearing a ball gown.