This month, if you buy the June issue of British Vogue, you will also receive the launch issue of Miss Vogue. Alexandra Shulman says of the publication: "I wanted to produce an edition targeted at younger readers, with your lifestyles in mind". Seems like a good idea to me, even though Teen Vogue does already exist, but I like the idea of a similar magazine with a British focus. Here's what I thought (bear in mind I'm 18 so that might have an impact on my opinion).
The Layout
Like Teen Vogue, Miss Vogue has gone for a bold and colourful design, which I think definitely works. The size is ideal (it's about A5, so good for carrying in a normal-sized handbag). Sometimes I feel that the fonts are too big but that might just be my personal preference and I suppose that's better than it being too small. The general feel is fresh, young, and bright, with plenty of image-heavy pages, but with enough text that you don't feel like you've just got a booklet of pictures. A delight both to flick through and to read in-depth.
The Fashion
The main editorial is that of the cover girl, Cara Delevigne. I think the styling is excellent and expresses the spirit of the magazine well, all with a mix of expensive investment buys and more affordable pieces. It's also a very wearable preppy style. I've sometimes found wearability to be a problem in Teen Vogue, since we can't always dress as outlandishly as we would like, or even don't want to, but still care about style. There is of course a lot variation in terms of fashion, ranging from £4 socks in 'Miss Vogue Treats' to a £4,450 Rolex in 'Fairy Godmother Buys', and also a mix of different styles. The outlandish spread 'Mish Mash' is a crazily eclectic mix of different fabrics, colours and shapes, while the shoot with
Homeland
's Morgan Saylor is a more relaxed combination of blues and silvers.
One of my favourite spreads is called 'Task Force', featuring stylish interns and what they wear to work. I am an absolute sucker for some trendy workwear (which I have no reason to buy because I don't have a job, but a girl can dream) so this appealed to me. Plus I love the mix of street-style photography and outfits laid on the floor, almost as if they are being planned out the night before work.
The best thing about the fashion - as opposed to Teen Vogue anyway - is that it's all from brands and stores with UK shops or delivery. That means I can actually buy things I see in the magazine which is a definite bonus.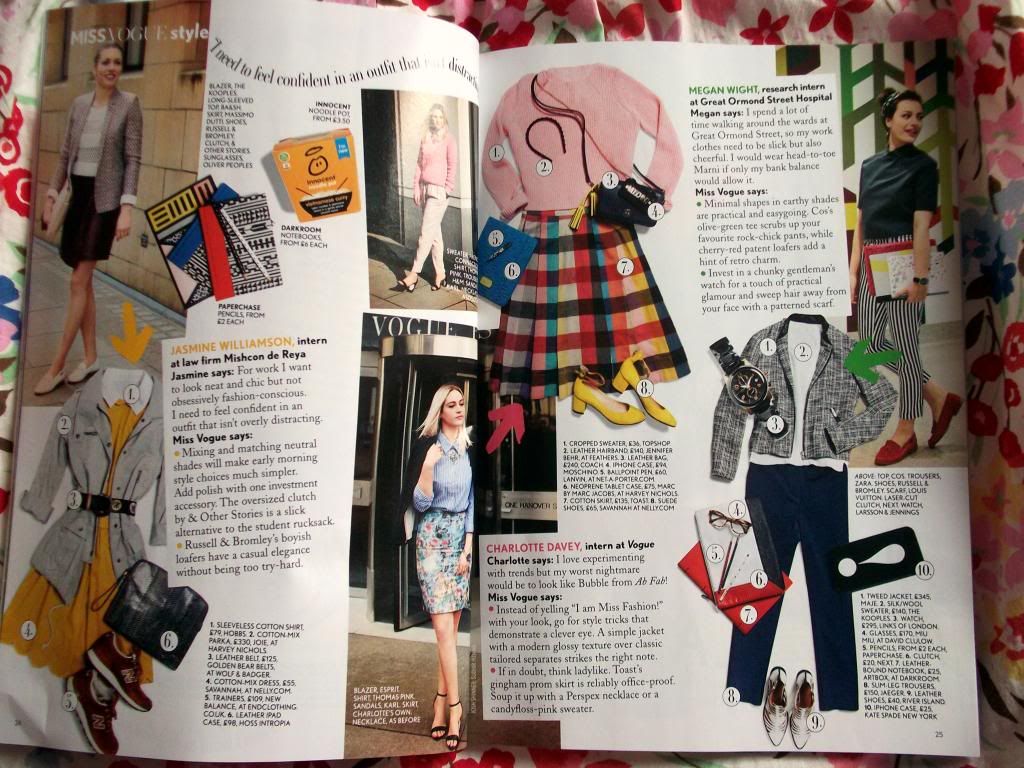 The Content
Overall, the features are good and there are several interesting pages. Whatsmore there aren't too many ads, which I do find happens quite a bit in Teen Vogue. Where there is advertising, it's well-chosen for the target market, with a mix of aspirational and affordable brands.
One thing
I've said about Teen Vogue in the past
is that I like how its tone is not patronising, which is a big problem with most British magazines aimed at a young audience. Miss Vogue is no disappointment here, hitting the right note instantly with Alexandra Shulman's letter. This is continued throughout and added to with a guest piece by Tavi Gevinson. I wonder if, as well as Teen Vogue, this magazine has been influenced by the style employed by Tavi and other young bloggers, because it's very successful in using that tone which is at once fun and friendly but also on the same level as the reader.
Unfortunately, I found that some pieces grated with me slightly in that they focused on 'real' girls (i.e. not actresses or models) who were actually not very relatable at all. The feature 'Under Pressure', was an interview with four girls about issues facing teens right now. The was nothing wrong with the girls chosen (and they were from a mix of different types of schools which I thought was good), but all of them spoke in a somewhat distant and almost judgmental tone as if they weren't actually involved in the issues themselves. Perhaps in future it would be better to choose girls who have had serious problems with body image, drugs, schoolwork, sex etc. I was also a bit confused by the 'My Space' spread. It was meant to focus on the bedrooms of three different girls, but there was a lack of focus on their actual rooms, which resulted in the whole thing coming off as a bit 'look at me!' The girls selected were quite likable, but I wanted it to be more of an interior design feature than just them presenting their possessions to the reader.There are several good ideas for features here, but I think they need a little improving.
Overall, the magazine was enjoyable to both read and look at. I can't judge whether I will definitely buy it again because I don't know what its retail price will be, but I imagine I probably will. My main suggestion for something to improve would be that, as great as Teen Vogue is, Miss Vogue is currently a little too much like its American counterpart. I'd love to see more focus on British fashion, but otherwise I'm loving most of what the team has come up with for this issue. I'm very excited to see where this publication goes next.