Sunglasses
- The day started sunny. It did not continue as such. Still who cares about the weather when you're seeing a great play?
June Vogue and Miss Vogue
- I bought this to check out on the train home as I'm very excited about British Vogue's foray into the young adult market, but I'll be doing a post with my opinions on that at a later date.
Underground map wallet, train ticket and Oystercard
- This wallet is seriously so useful. We only made one tube journey in the day to Tottenham Court Road to the British Museum, as we decided to see some Greek vases before the play. As you do.
Peter & Alice programme, tickets, and script
- So this is the reason we went to London: to see Judi Dench, Ben Whishaw, and a stellar supporting cast in a new play called Peter and Alice, part of the Michael Grandage season at the Noel Coward Theatre. I've been excited about this for months as I've seen every single member of the cast in something plus I'm obviously a huge fan of Judi Dench and Ben Whishaw.
Anyway, the story is about Peter Llewelyn Davies (Whishaw), J.M.Barrie's inspiration for Peter Pan, meeting Alice Liddel Hargreaves (Dench), Lewis Carroll's inspiration for Alice in Wonderland. But really the play is about growing up, and the imagination of childhood. Olly Alexander played Peter Pan and Ruby Bentall played Alice, both of them onstage with their namesakes and their creators, with Nicholas Farrell as Carroll and Derek Riddell as Barrie. Stefano Braschi also made appearances as various figures from both Peter and Alice's lives. I thought it was a wonderful play, blending together the biography of both the writers and their muses with the texts themselves. We just couldn't resist buying the script at the end, though it is a very visual production.
I thought the cast was really superb, though I have to mention Olly Alexander and Ruby Bentall. At the end, they are left on stage as Peter Pan and Alice in Wonderland, and he gave her a look which just broke my heart (in the context of what happens in the play). So I got their autographs at the stage door and told them how much I had enjoyed it. Then Ben Whishaw came out, so we got him to sign our programmes and he was even kind enough to take a picture with me and my friend Oscar.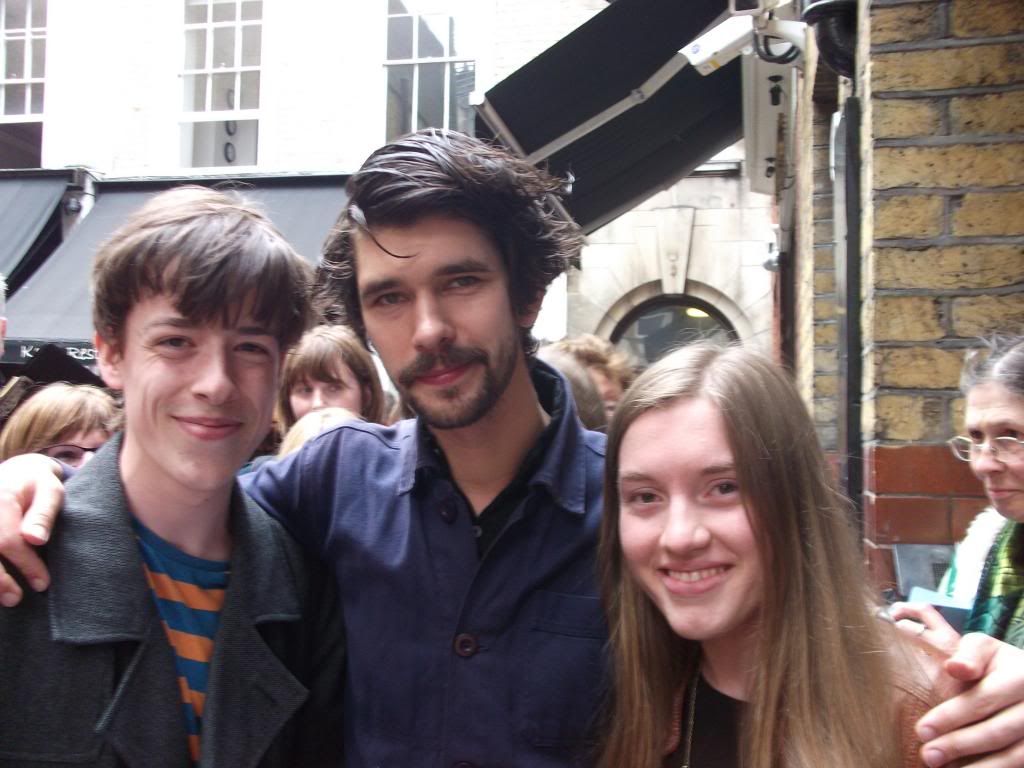 He is very lovely. And his acting is phenomenal. I don't really have much else to say other than that it was a a fantastic day and a really moving play which I would recommend if you can get your hands on a ticket (I think it might be near to sold-out now though)