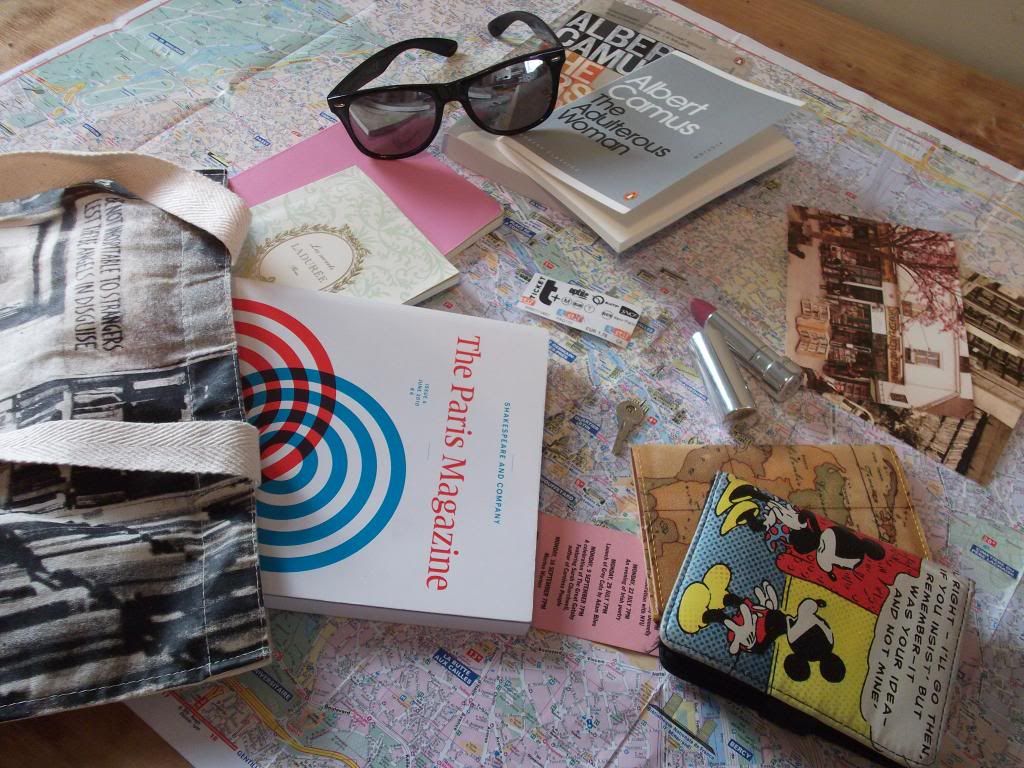 So last week I went to Paris with my friend Holly for a couple of days. Along with going to the top of the Eiffel Tower, visiting The Louvre and trying frog's legs (I did - they were good), something on my list of things to do was go to Shakespeare & Company, a legendary bookshop in the Latin Quarter. Here's what I took with me (or bought there).
Shakespeare & Company Tote Bag
This was
€10 and definitely worht thee money beause it's the perfect size for carrying my purchases around. Plus it's a lovely souvenir to show off once you get home.
The Paris Magazine This is Shakespeare & Company's magazine, first published in 1967 when the shop had to stop selling books because the owner George Whitman's papers weren't in order. The issues seem to be sporadic (this one is from June 2010) but the articles, poetry and stories are of a hgh quality which made it excellent reading for the Eurostar home. A highlight for me was a piece by Jeanette Winterson on the books of her life.
Metro ticket Because we were staying in Montmartre, so had to get the train over. Even so, it took us a good while to find the bookshop because the way the street appears on the map is quite confusing!
Passport & purse Mais bien sur. The purse is from a trip to Disneyland Paris a few years ago and I now always use it for travelling. It features Minnie Mouse telling Mickey "All right - I'll go then, if you insist. But remember - it was your idea - and not mine." And no, I have no idea what the context of that is.
Key
Rather than going all the way to the closest Metro, Holly and I got off at Cit
é
for a wonder around the little island. That was when she revealed that she had brought along two padlocks for us to put on Pont L'Archeveche - one of the bridges in Paris where people put love-padlocks and throw the key into the Seine... except each of our locks came with 2 keys, so we threw one each into the river and kept the other as a memento.
Lipstick I bought this from the Paris branch of And Other Stories, which I recently discovered also has a store in London. I very much like their aesthetic and will probably do a post on the shop soon.
Postcards Everything you buy from Shakespeare & Co is marked with their stamp (below), even the postcards! I have no intention of sending these to be honest - I just want a reminder of this place to put on my mirror until I can return.
Notebooks The pink one is for writing, the green Laduree one is from a previous trip to Paris, and was what I used to note down travel information and plans.
Sunglasses It was sunny for pretty much the whole time we were there and didn't rain at all! These sunglasses were bought in France last year so I felt like they were a good choice to take with me.
The Adulterous Woman and The First Man, both by Albert Camus My French only goes up to about GCSE level, so these are both in translation, but still - it felt right to buy a French writer. I've read The Outsider and The Fall by Camus previously and I love his prose (even if I'm not reading the original). These were of course both stamped with the Shakespeare & Co label on the inside. The Adulterous Woman was particularly good because it's a collection of 3 short stories - perfect for taking on a Metro ride.
All laid out on... a map of Paris which we had to buy at Gare du Nord because it's very confusing there. It proved to be very helpful over the next couple of days, though it did fall apart quite easily...
I loved visiting Shakespeare & Co. The atmosphere alone is enough to make me want to spend hours there. As well as an impressive range of books for sale, both old and antique, there is also the Sylvia Beach library, where you can sit for as long as you want and read. In one part of the shop is a piano, which I tentatively played the Top Cat theme on, and was told "tres bien" by another customer.
If you've never heard of it, the basic story is that the original Shakespeare & Co. was started by Sylvia Beach in the 20s, and it became a hang-out for great writers of the time: Ezra Pound, Ernest Hemingway and F.Scott Fitzgerald to name a few. After it was closed during Nazi occupation, another store was started on Rue de la Bucherie by George Whitman in 1951, though under a different name. This is the store which still exists today, though the name was only changed to Shakespeare and Company in the 60s, in tribute to Sylvia's store.
Holly outside the store
One day I would love to return and stay for a while as a 'Tumbleweed' - someone who gets to sleep in the shop in exchange for doing a few hours work per day. It seems like the perfect place to finish that novel I'm working on...