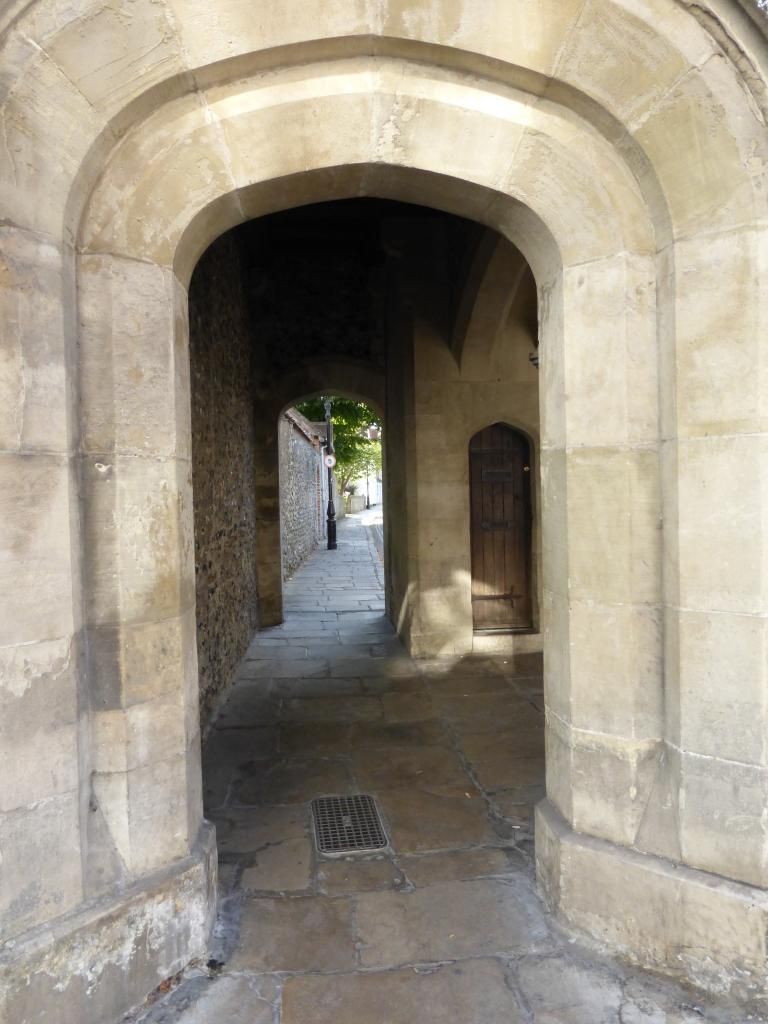 A great thing about my Nothing New Challenge is that it gives me an excuse to search out new places to go shopping, all of them far more interesting than my all-too-frequent Primark/H&M/Zara haunts. In the course of my quest, I've decided to share with you some little guides to the best places for charity and vintage shopping. This time, it's the lovely Sussex city Chichester.
This turned out to be a very good place to get my challenge off to a good start, and I suspect that this may be due to the fact that the whole city seemed to be preparing for Glorious Goodwood Revival. In case you haven't heard of it, this is a weekend at Goodwood race course (near Chichester) celebrating all things vintage. Everyone is expected to don their best vintage fashions, so it makes sense that most places in Chichester are readying themselves to provide whatever the retro-seeking attendees are after. This mean that even the charity shops tended to have separate vintage corners and had placed their best 50s frocks enticingly in the windows.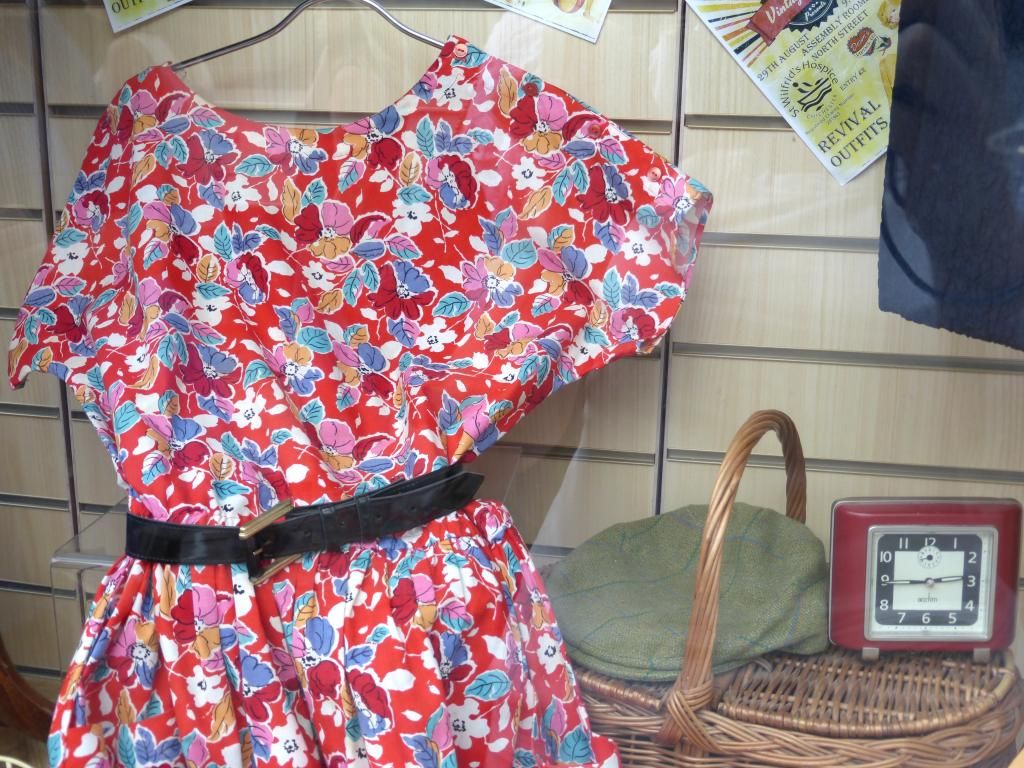 Now I have to confess something: I think I actually prefer charity shops to vintage shops. Sure, you are far less likely to find a 70s fur stole or a 20s flapper dress, but what you will find will be much cheaper. There are also so many treasures to be found in charity shops and, although they don't have quite the same atmosphere as vintage stores, with their warm 'shrine to the past' air, you may well find what you're after.
In Chichester, you can hardly walk ten metres without coming across another charity shop. The selection includes Cancer Research, British heart Foundation, Oxfam, two branches of Barnardo's, and local charity St Wilfrid's Hospice. It amazed me that you could have so many second-hand stores in one place and for them to all be quite so well-stocked; perhaps the big ones are sent stock by head office. Cancer Research had a really good section at the back where they had gathered together big coats and clothes in dark tones to form an Autumn/Winter collection. Some of it was a bit pricier than you'd expect to pay in a charity store, but in fairness, I spotted a few brands (LK Bennet, Coach, etc.) which you would hand over a lot of money for if they were new, and these were all in pretty good condition.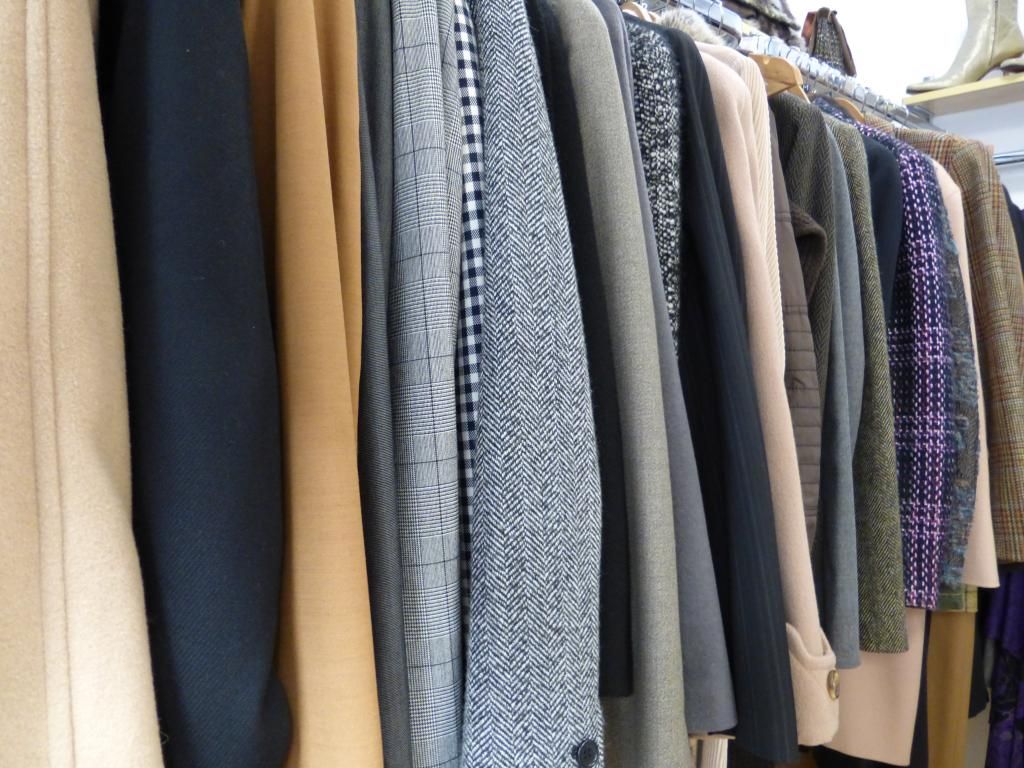 Most of these shops can be found on South Street, East Street or North Street. However, we found a particular lane which was just a second-hand paradise. Crane Street, off North Street, not only has FIVE charity shops but also a vintage store called
One Legged Jockey
. I didn't buy anything this time round, though did really enjoy the feel of the emporium, with classic music playing and huge amounts of stock. It reminded me a little of my favourite vintage shop, Radio Days in London, where you can hardly move for leather jackets and ballgowns!
I visited one other vintage store,
Vintage@Chi
. Another small shop, but with rather more room to move, this one had more the impression of catering to the woman who is after a special outfit for a party, whereas One Legged Jockey has a lot more everyday stuff.
In the end, I bought two dresses, both from the same branch of Barnardo's. It would have been three, but a particularly cute tea-dress didn't fit me; that's one of the major drawbacks of second-hand - you can't just ask if they have the next size up. I'm sure I'll have the chance to show them off properly in future posts, but for now here's a shot from my Twitter, in which they are laid out like the spoils of war on my bed.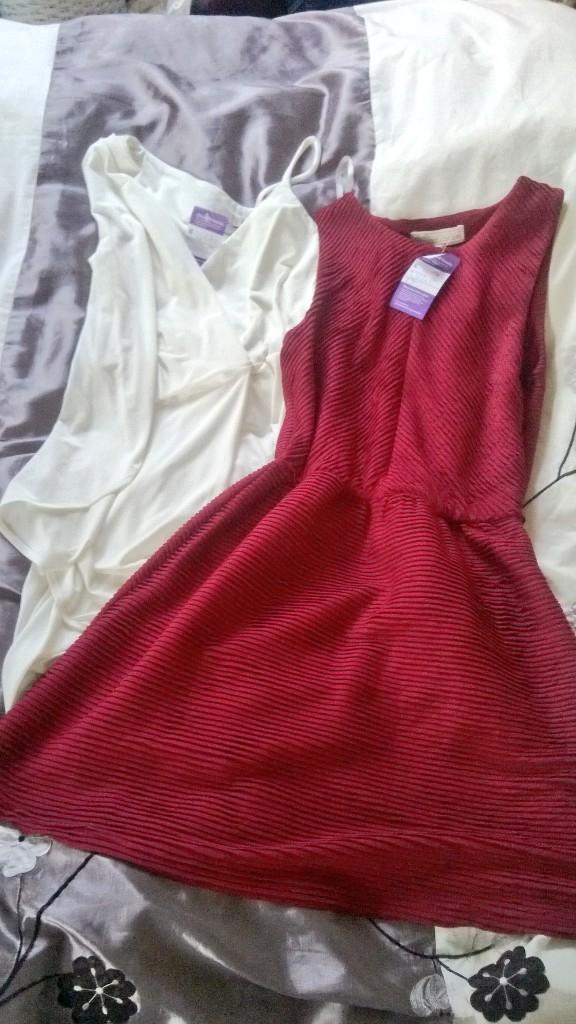 I'd say that Chichester is the place to go if you're up for a good rummage through the charity rails, and have the patience to search for that hidden special piece. It's also worth visiting in the run-up to Glorious Goodwood, because everyone seems to have amped up their vintage/retro game. One other thing is that, if you're in Sussex, Chichester makes for a slightly subversive alternative to Brighton's famous lanes, and you can tie it in with a trip to the cathedral or Priory Park as well!
I'll be posting more updates soon, so stay tuned! If you think there are any particular places I should go while I'm doing this challenge, let me know in the comments or on
Twitter
.