Of course, there are productive things I could be doing, like actually reading The Faerie Queene, or getting a paper round, or starting up a small greetings card business. But typically, my mind has been wandering, and I've come up with a little project for myself.
I've decided that I'm going to give up buying brand new clothes. By that, I mean anything straight from the High Street or online, anything newly-made and unworn. Shopping is by no means out though, as I'll be scouring vintage shops, markets, charity stores and several other places whenever I feel my wardrobe needs a refresh.
But why? Well there are a few reasons:
Firstly, and most importantly, I am worried about the effect that fast fashion is having on our environment, our culture and our world in general. With the collapse of the Rana Plaza garment factory in Bangladesh just the latest in a series of tragedies, it's getting harder to ignore the conditions in which our clothes are produced. I'm hoping that by stepping back from the temptation of abundant and cheap clothing in the biggest stores, I can re-evaluate the way I shop, and maybe become a better consumer.
I've been watching This Old Thing, a new programme on Channel 4 hosted by Dawn O'Porter. It's not really anything groundbreaking, following formulae which were invented by Trinny & Susannah and honed by Gok Wan, but it's really fun and promotes vintage. Unlike Dawn, I don't have a team of expert seamsters at my disposal, but I can take inspiration from the show for my challenge of finding vintage gems and making the best of what I already own.
Shopping second-hand is so much more satisfying. The other day I went into town with a goal: to find a dress which I can wear to an upcoming party for under £10. I also decided to start my search in charity shops. It happened that in the first one I looked in, there was an ideal dress for £8.99. Knowing that there was only one dress like this - rather than a whole rack of them - and that I had found it, was just a fab feeling.
The Monday afternoon "I know what I'll do - buy a dress from Primark/Topshop/Miss Selfridge!" sessions really need to stop. I'm not sure how this started, but it's definitely a thing.
Once upon a time, this blog was very vintage-focused. I'm not sorry that it moved away from that a bit because I think I would have become too bored with just that one area to blog as much. But I'm kind of looking to go back to my roots here. I mean, even the clothes in the header are outside an antique shop in France, plus my first ever published-in-print article was about places to find vintage clothes. It should be fun to keep my readers updated on how the challenge is going.
I'm sure there are some more reasons but those are really the main ones. Anyway, the point is: I'm going to keep going with this for as long as I can. I'm not going to set a particular time-frame because you just don't know when your only good pair of leggings will break, or you'll need a fancy-dress costume, or you'll be invited to meet Prince Harry (it could happen). But let's say, as a vague guide, that I'll be starting pretty much straight away (just as soon as my winter boots from Fat Face arrive...) and trying to stick to this for the next academic year, so until June/July 2015.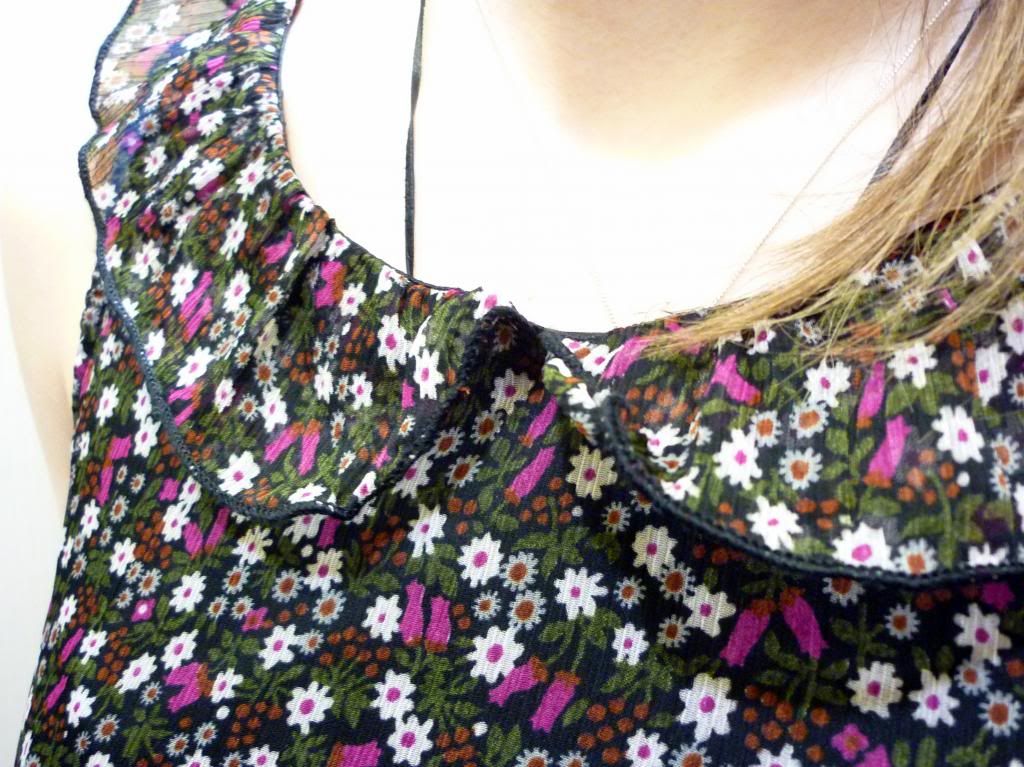 Just for clarification, I'm not going to include underwear or hosiery in this (though there do seem to be an odd number of unopened packs of tights in charity shops). Aside from that, I will be trawling vintage & charity shops, eBay, ASOS marketplace, my own wardrobe and, if necessary, the wardrobes of friends (with their permission of course). What's more, I'd really like all of you reading this to help me out if you have any advice. Know a good place to find cool second-hand clothes? Have a trick for revamping old things? Let me know by commenting on this post or getting in touch with me on Twitter:
@fashionmoriarty
All images are mine except top one which is from here