In writing this series of places for second-hand shopping, there will inevitably be a mixture of towns and cities I know well (stay tuned for Winchester and Oxford), ones I've managed to thoroughly explore in a day (like Chichester) and others which really are too vast for me to accurately cover everything. That's the case with this post about Dublin, and I'll have a similar problem when I get round to talking about London.
However, even though I'm sure a local would be more aptly-equipped to tell you about Dublin's vintage/second-hand hotspots, I hope I'm in a good position to advise short-term visitors. Most of my shopping took place on one day, so if you're planning a whirlwind trip, maybe I can be of use with my recommendations, inexpert as they may be.
As a starting point, I searched the fashion blogosphere for information, and came across
this post on Dandelion Dreamer
. It's from awhile ago, but she recommended the shop Harlequin, and it sounded like there were others in the vicinity, so off we headed to Castle Market.
Before we even made it to our destination, we came across a fashion show - the second one we'd seen in our few days there. As it happens, Dublin Fashion Festival had coincided with our trip. The night before our shopping trip, we had stumbled across the final of Young Designer of the Year at the Bank of Ireland, and clung on to the railings at the edge of the private event in order to watch it! The second show was a public one, and as actually happened to feature an outfit comprised of clothes from Harlequin! Now doubly excited, we continued on.
Characteristically though, Dublin threw up plenty of distractions. For a start, there was a branch of Oxfam nearby, where I ended up buying a red dress (more on that and other charity shops later). Then there was a place called the Powerscourt Centre. Here you can find several (mostly quite expensive) shops in the gorgeous setting of a renovated Georgian (?) building. We didn't stay long enough to have a proper look around (mainly because I was distracted by the lovely stationery in
Article
, one of the first shops we came across) but if you're interested they have several antiques stores, as well as a rather lovely-looking range of places to eat.
Although by now we were on William Street South, and therefore just a few steps from Castle Market, where Harlequin is located, we still managed to find something to be diverted by. this time it was another vintage shop. From the outside,
The Dublin Vintage Factory
, a basement store which you have to go down an iron staircase to reach, looks like it could be a bit weird (and not in a good way). However, once inside, it's a haven. Neatly organised with a front and back section, it's a pleasant store to browse. I'd almost say that they've gone too far in terms of ease of access, and don't actually have enough stock on show; although I find some vintage stores too cramped, I also enjoy the rummage through racks of items to find that one hidden treasure. This shop is still certainly worth a visit though, as it's very cool and also quite affordable.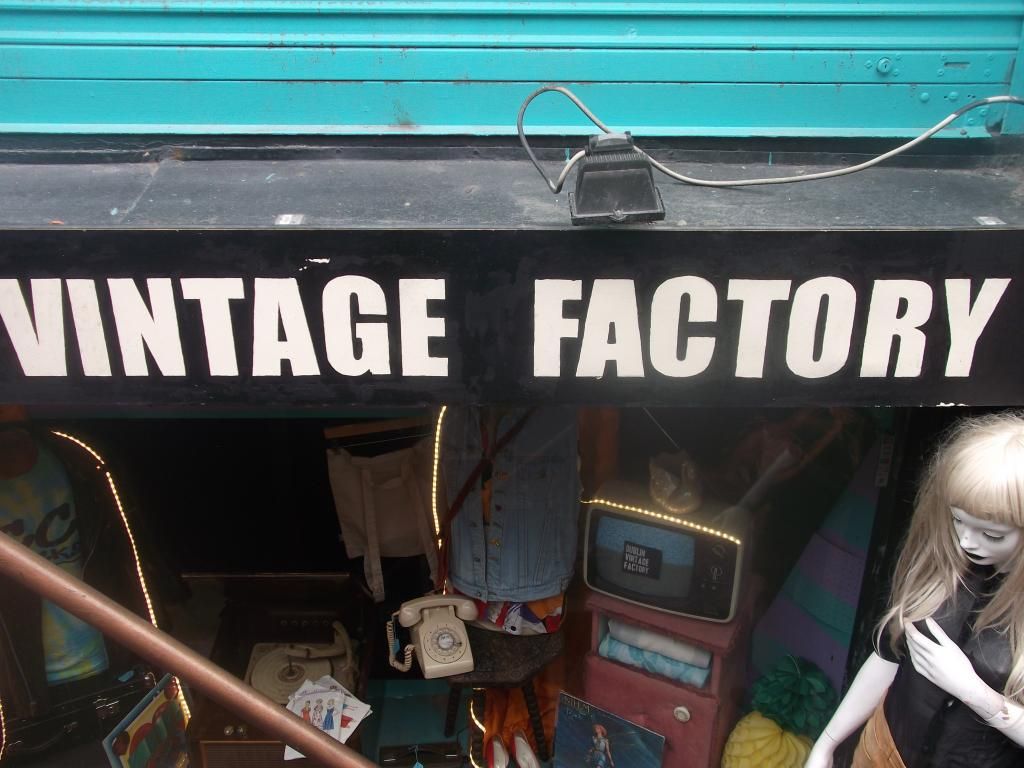 After this, we at last ventured into Harlequin. It did not disappoint. Not only is there plenty of stock, there's also a lot of space. Spanning two floors, they hold a huge range of dresses, tops, jackets and sunglasses. On that particular day, everything upstairs was half-price, so I bought this cute white top for
€10. As you can probably see it has a slightly odd hem where I think someone has (badly) shortened it at some point, so I'm considering either unpicking and re-doing that or even cropping it a bit more.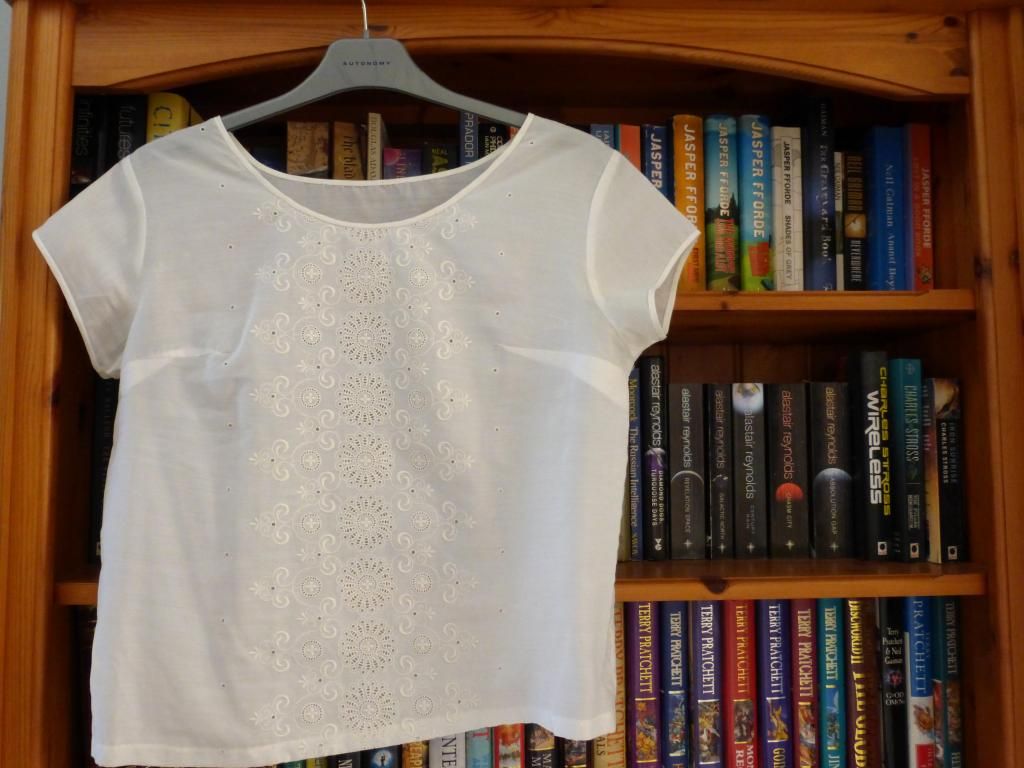 Now onto Drury Street, we went to another shop recommended by Sorcha of Dandelion Dreamer: Jenny Vander. This has some lovely pieces, and a lot of gorgeous jewellery, but it isn't really the kind of place I would shop at. It's probably more of a destination for serious collectors and those with high budgets for special occasions. After a brief look around, we crossed the street and went to Om Diva.
This was a lot more my kind of thing. Upstairs they have new clothes with a distinctly retro feel which, though they are off-limits to me because of my Nothing New Challenge, were nice to have a look at. Then downstairs is a girly paradise of a vintage shop. There are a lot of pretty lampshades and pastel tones around, to the extent that you might be worried it would look tacky. I can assure you though that, for me at least, the effect was just comforting and fun, like you're in the living room of a particularly artistic old lady.
The pieces ranged in price from everyday buys to very special occasions, and the changing-rooms were so pretty I just felt I had to try something on, so I went for a
€220 beaded dress. Although it was a couple of sizes too big and way out of my price range, I think an important principle of vintage shopping is trying on things you think you'll never buy. It can just help you to get a feel for what styles do and don't suit you, and figure out whether you'd be comfortable wearing a heavy 1920s gown or leather 1960s miniskirt. Plus it's always fun to fantasise about the day you'll be able to afford that stunning piece.
Ambling along, we came upon George Street Arcade. This was nice for a wander through, and we had a look at some of the vintage-sellers set up on stalls here. We also went to a self-service fro-yo place, the likes of which I haven't been to since I was in Tacoma, Washington! This was a good place for us to stop, recharge, and use the arcade's free Wi-Fi to share the news of our fro-yo discovery with the world.
Once on the other side, we didn't have much idea of where to go next, so just continued up South Great George's Street, then went back along Exchequer Street to the top of Drury Street. On the corner we spotted another cute-looking shop called
Carousel
. At first it looked like it just sold pretty retro-style new clothes, which really tested my resolve since a lot of them were just my kind of thing. But then, as my travelling companion Holly was going downstairs to find the changing rooms, she popped back up and called me over: "There's lots of vintage down here!"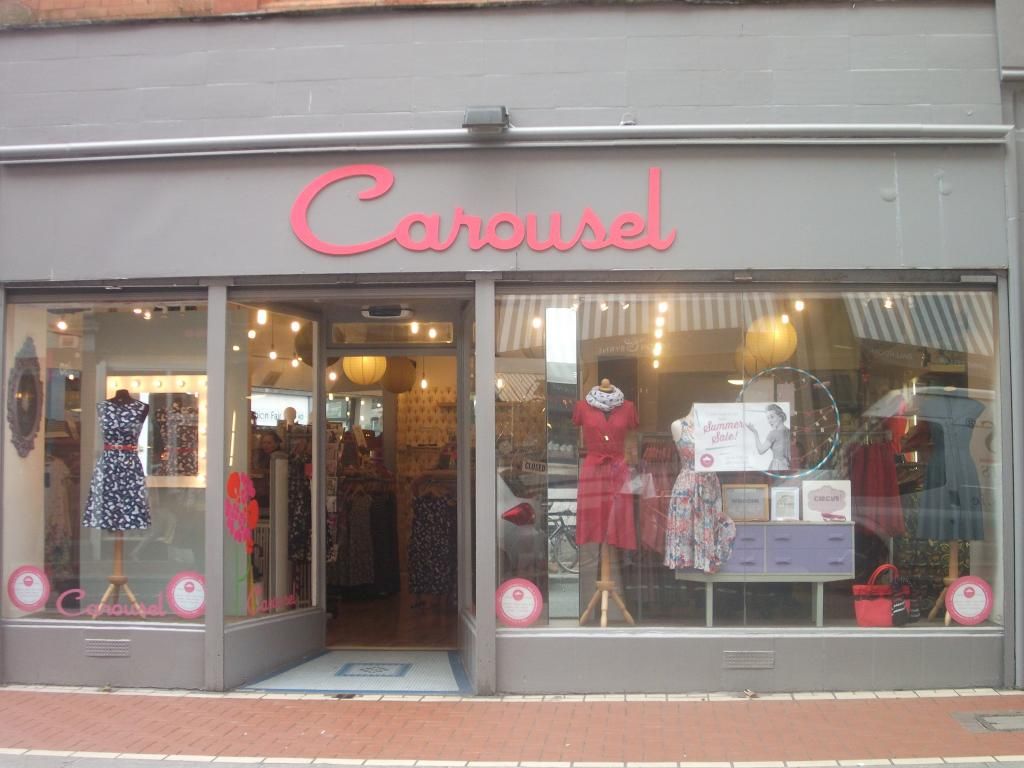 And so there was! In fact their range was mainly dresses of all different colours, but mostly of the same price (usually
€49). Much like Om Diva, they had a lovely atmosphere for trying things on, with plenty of changing booths and a chaise longue on which to recline in the middle of the room. This is probably a really good place to go if you are a little daunted by the thought of vintage, because it's all very nicely laid-out, with nothing too outlandish, but still with that unique air you can only get from second-hand clothes.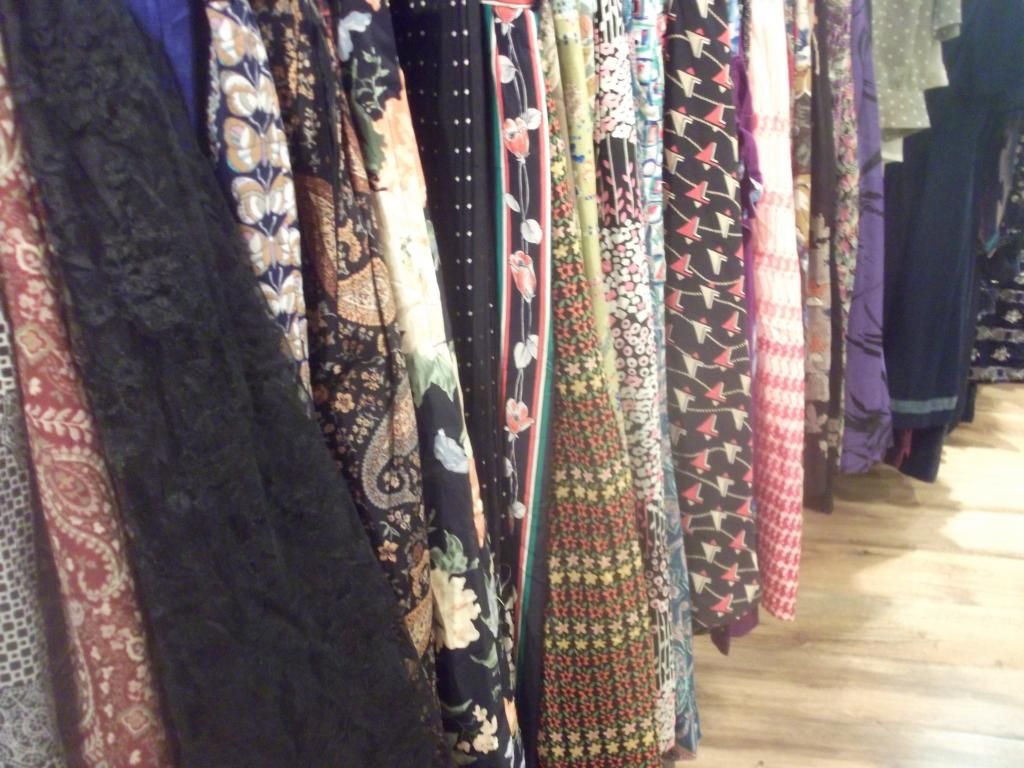 Now that I've rounded up the choicest stores in that area (basically the streets which you can find leading off from Exchequer Street), I'll say a little bit about charity shops. We didn't come across a whole lot of variety, but there were several well-stocked branches of Oxfam. I bought my red dress from the one on King Street South, and we tried on various items in the one on South George's Street. We even visited a branch in Malahide, when we visited the castle. Although you may well find a lot of the stock is fairly similar to other charity shops, there's still a chance you'll find something interesting, which you can then confidently proclaim you "bought in Dublin".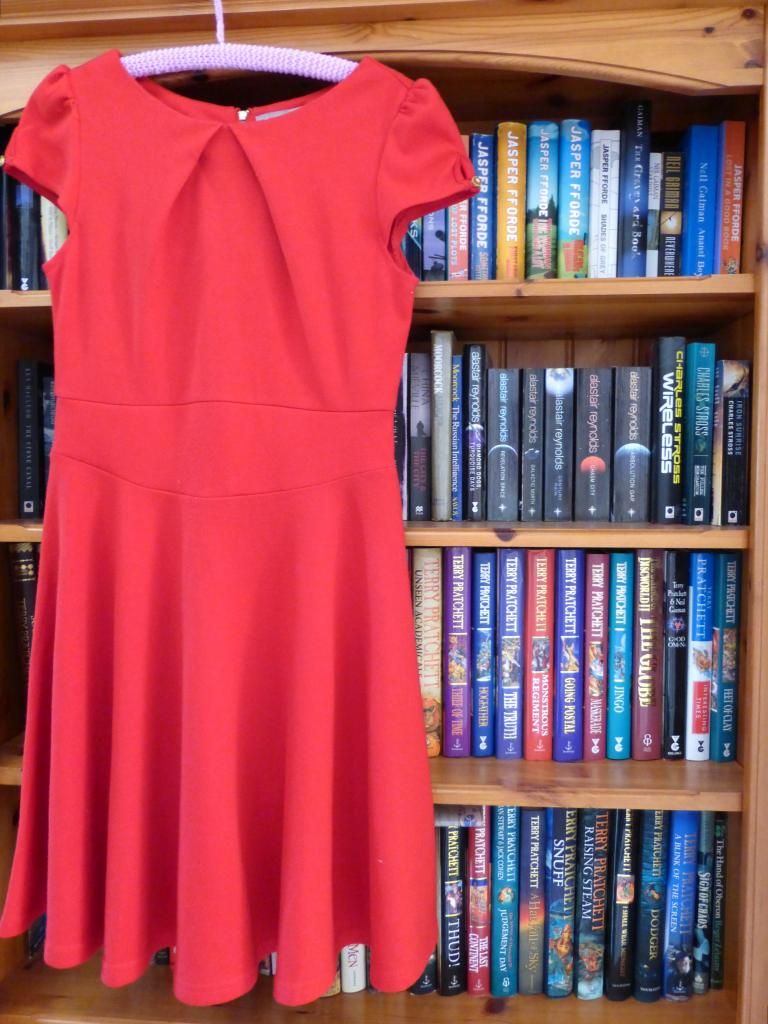 My red dress, second-hand A-Wear
Don't forget you can follow me on Twitter. I'd love some suggestions for other towns and cities I can explore in search of excellent second-hand finds, so get in touch!