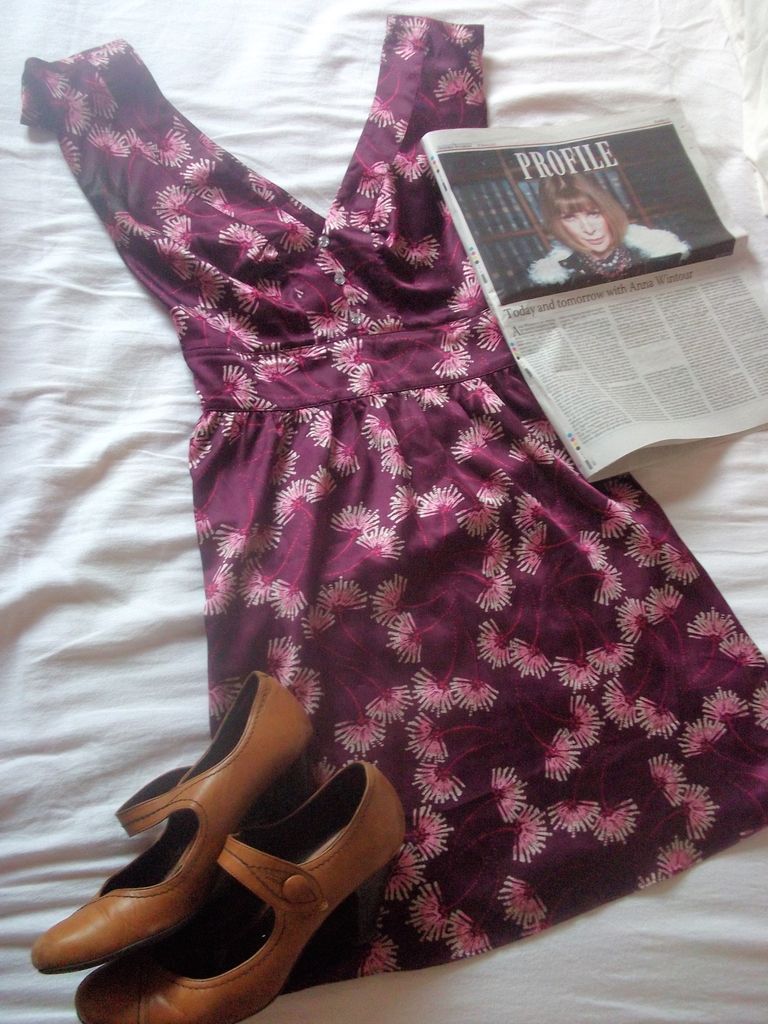 What do you wear to meet the most powerful woman in fashion? It's a conundrum which I imagine is enough to get any fashion writer's heart racing. But wait, I don't think you fully understand my predicament yet. What do you wear to meet the most powerful woman in fashion
when you're halfway through a challenge where you can only buy second-hand clothes, and you have very little money and even less time to go shopping?
The only real approach is to find something you already own and hope for the best. In this case, I was preparing my interview questions and fretting over whether my dictaphone might run out of battery, so I had to go for a relatively simple option. This silk dress is originally from Guess, but I bought it for £7.99 in a charity shop in Devon several years ago. Since then it's been a favourite of mine, as it can be quite casual but is easily dressed-up. The shoes are a £1 buy from a car boot sale.
As it turned out, this hurried choice turned out to be a good one, as when we met Anna complimented me on my "pretty dress". As you can imagine, I was pretty giddy after this.
Credit: Roger Askew
I've been wanting to write this post for a while, as a kind of companion piece to my interview with Anna which was
published in The Oxford Student
. I tried to convey in my write-up how pleasant and charming I found the woman herself; so many people have asked me what she's really like, obviously suspecting that the Ice Queen persona is the true Anna Wintour.
I find it very strange that people are so quick to judge someone when they've based their impression of them on a few rumours and a fictional portrayal. Once you look at the role Anna plays in the industry, it's pretty obvious that she cares deeply for young designers and for the fashion business itself. Aside from that, I found her to be the kind of person you always want at a party: personable, talkative, and ready to strike up a conversation with someone new.
If you're interested, please do have a read of my interview. You can find it
here
.