It's London Fashion Week. Everywhere you go in the central London area, one can spot models waiting between shows, shiny Mercedes Benz official cars, and show attendees dressed in their best Autumn/Winter looks, hoping to attract a street-style photographer.
In amongst this, a play is running in the West End, not far from the shows in Soho. It focuses on Alexander McQueen, one of Britain's most legendary fashion designers.
McQueen
was first performed at St James Theatre, and though it has now transferred to the Theatre Royal Haymarket, it seems the fashion world has moved on; it is almost fitting, for a play which contains many meditations on the double-edged sword of fame and the ruthless ephemerality of the fashion world.
The story is simple. On a night a few years ago, Lee, better known as Alexander McQueen, encounters a woman attempting to steal one of his designs. Together they embark on an improbable journey through London, encountering demons and ghosts from McQueen's past. It's a fictional narrative, based on the life and work of its protagonist.
Let me say, first of all, that this is not the play to see if you want to know about Lee Alexander McQueen. One day I'm sure there will be a Coco Avant Chanel-esque biopic to tell the story of his life, but this play instead uses the fascinating life of the designer to explore dark topics, particularly fame.
In one scene, Lee berates Dahlia (the dress thief) for thinking she can speak about Isabella Blow's life and death after five minutes of Googling. The same thought comes to mind about this play itself. It makes a bold effort to understand McQueen, a mission which is lent strength by Stephen Wight's excellent performance. But the biographical details are, for those with at least a passing interest in McQueen, things we've heard before: his relationship with Blow, the Savile Row training, his closeness with his mother. That doesn't mean any of these things are unimportant or untrue, but given the whimsical concept upon which the play is based, it is strange that writer James Phillips did not choose to be more creative with the details of McQueen's life. That's the problem with turning a living or recently living person into a character: it seems disrespectful to smudge the truth about them, and yet what we understand as the 'truth' about them is based on a handful of details which make up their Wikipedia article. To get at a deeper level, and to turn that person into a character, it might be necessary to employ a bit of poetic license.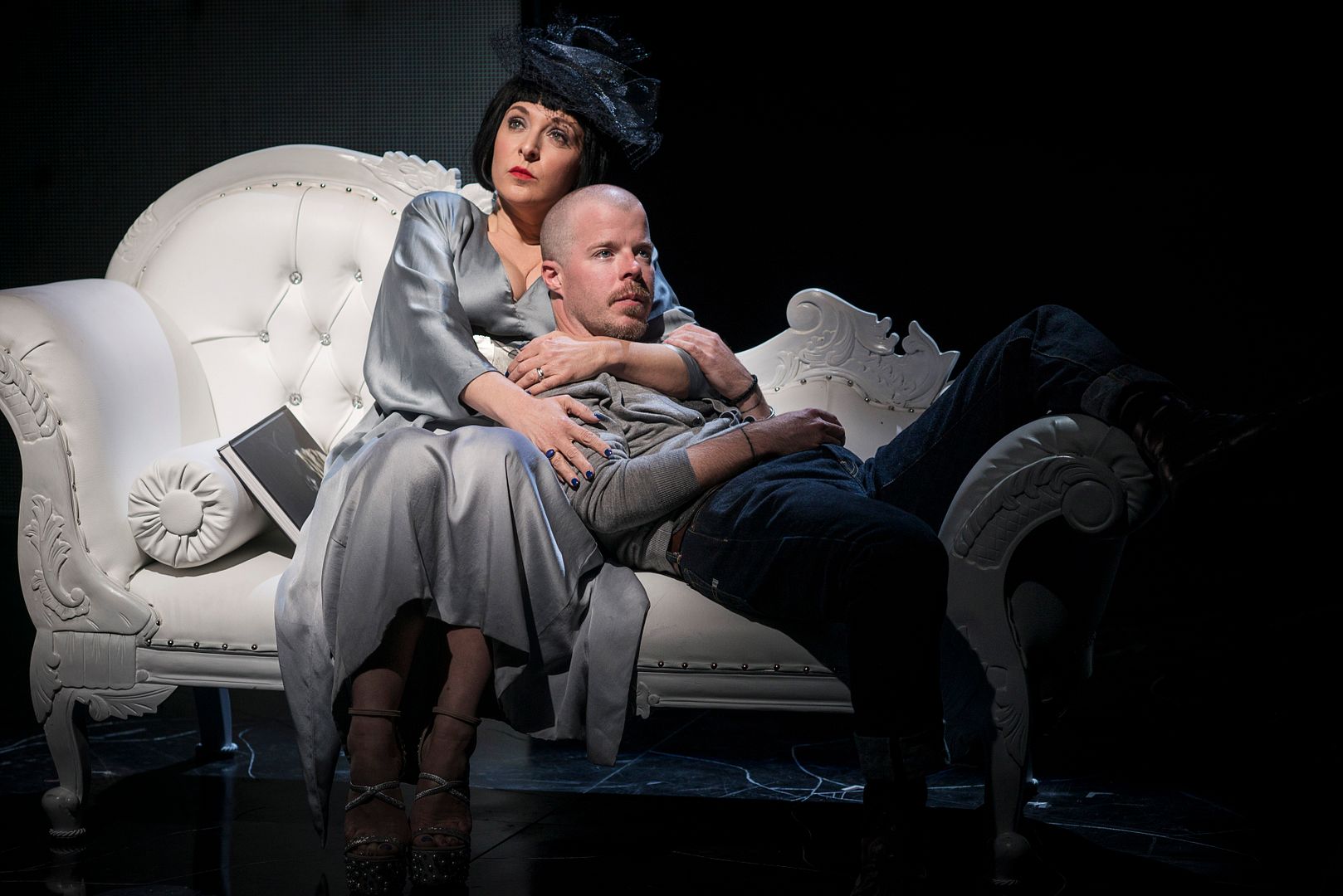 Where the script shines most is when little details are used to give us a better understanding of Lee. In a scene set on the roof of a London building, he tells Dahlia about his days birdwatching and looking out over London as a young man. It's a small detail - and a true detail - but for me it was one of the most telling moments of the play. As well as creating a vivid image of the boy birdwatcher, it also ties together the other references to birds both in the play and in McQueen's body of design work. Another highlight for me is Lee's conversation with the already-deceased Isabella Blow (who is portrayed wonderfully by Tracy Ann Oberman). She describes another a small moment which provides us with a vivid image: the two of them practicing falconry at her country home. It seems to say so much in just a few lines, and I wish there had been a few more moments like this in the whole play.
Sadly, I did not find Dahlia very easy to sympathise with at all. Perhaps it's because she's not a real person, or perhaps it's because her lines seem a bit contrived (every time she swears it feels bizarrely unnatural). I heard one audience member describe her as the "idiotic American girl" during the interval. It's a shame, since she provides the concept for the play, and is certainly necessary to prevent the whole thing from becoming one long monologue. If you've ever heard of the
Manic Pixie Dream Girl
trope, that is what Dahlia is. Phillips tries to give her depth, but she ultimately falls flat in comparison to the real-life figures of Blow and McQueen.
But before you despair of this play entirely, let me speak about the production design. As is suitable for a designer whose shows were renowned for their theatricality, this production looks incredible. Lighting, projection, and TV screens are all used to great effect. Add in a few choice props and the stage is transformed into a Saville Row tailor's, a London Underground train, even the mind of McQueen himself. The Haymarket is an ideal location for all of this - as Phillips says, "It really is one of the most beautiful theatres I've ever been in."
Best of all is Christopher Marney's choreography. I have never seen such beautiful use of human bodies in theatre. It blends the movement of fashion models with balletic influences, and in the process the dancers seamlessly change the surroundings to move us from one scene to the next.
Of course, I cannot finish without talking about the costumes. The use of McQueen designs is sparing, and rightly so. To fill the stage with beautiful clothes would detract from Lee who is, in his own words, "wearing the worst clothes in the room". The key pieces are a gold coat, which many people will recognise as being from his final collection, and the red dress with a feather skirt which was worn by Erin O'Connor in Spring/Summer 2001. Yet the most stunning sartorial moment occurs when Lee builds a black dress around Dahlia which she wears for the rest of the play. It must have taken some serious technical work and a lot of practice on Wight's part to make it look like he is cutting fabric by eye and turning it into a piece of couture in under five minutes.
This is a play which I found worth seeing, despite its flaws. And at a time when Savage Beauty has made history as a blockbuster exhibition, this production contributes to the inevitable rise of the cult of McQueen. There will certainly be more tributes to the late great designer, and if they carry his influence in the same way
McQueen
does, I can see him becoming the most legendary icon of fashion since Chanel.
All images kindly provided by Amanda Malpass PR on behalf of
McQueen