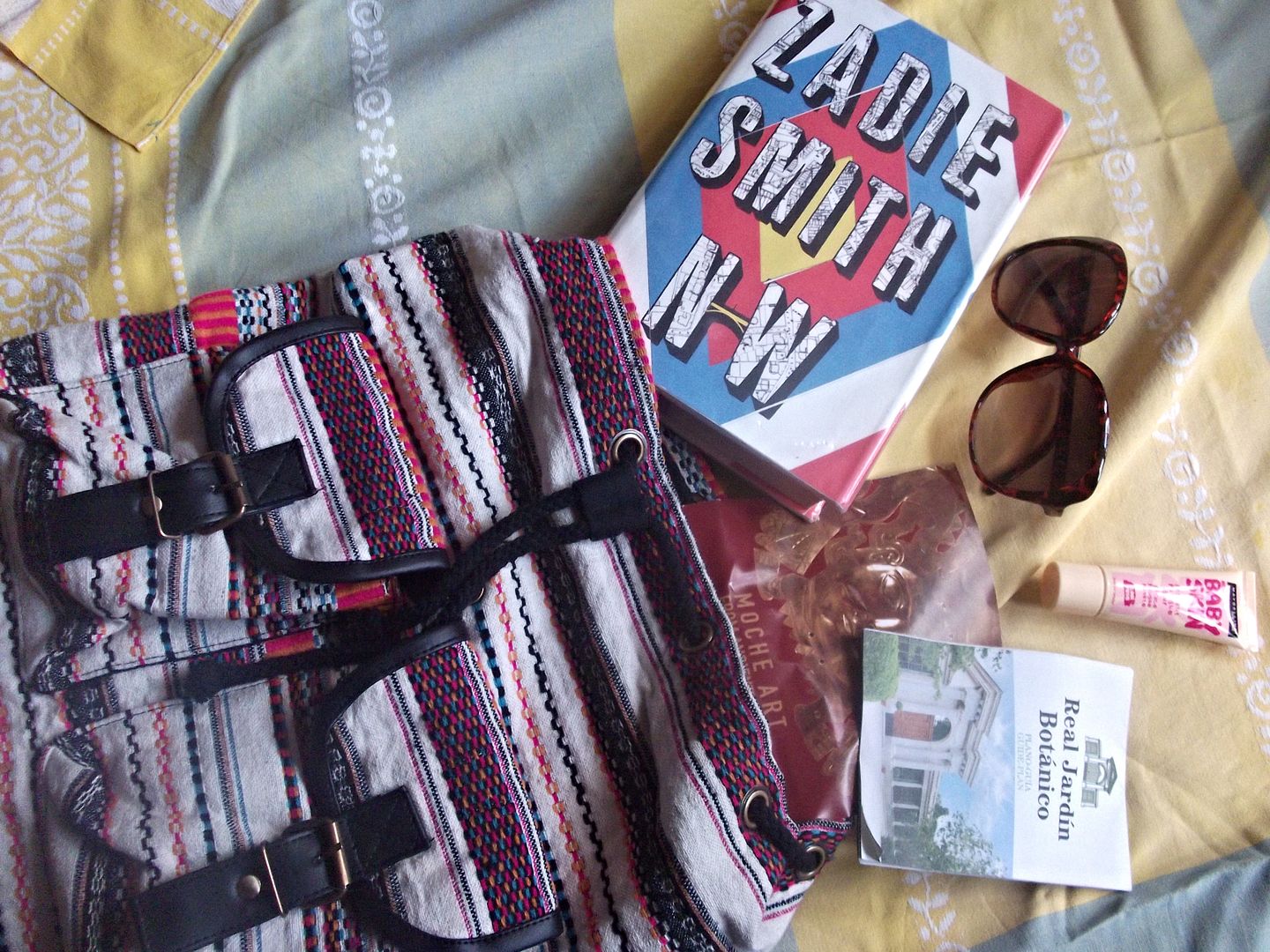 My summer is almost over, but there was just about time for a short city break with my friend Holly. If you're looking for a place you can do in a few days in Europe, I cannot recommend Madrid enough. I bought a new backpack just before we left, as I wanted something a big enough for all my bits and bobs, and overstuffed shoulder bags are the worst. Aside from the essentials (passport, money, phone), this is what I was carrying around.
NW by Zadie Smith
- It seems counterintuitive that I should have been reading this novel, which is mainly set in a little corner of North London, over the few days I wasn't even in England. But I think holidays are really about getting to do those things which everyday life doesn't afford you the time for, and this is a book I've wanted to read for a long time. It's nice to take a break from reading for my course - though this book might actually make a brief appearance in my dissertation...
Sunglasses
- Another new purchase. I used to have some a bit like this, but lost them at some point last year, so I decided to go for
even bigger
frames. It's the Anna Wintour look, darling.
Maybelline Baby Skin
- As the tube makes clear, this is a product for adults only, despite its name. It's a "pore eraser", kind of a light tinted primer - it's even lighter than BB cream. I really like it, as I hate wearing makeup which seems to sweat off whenever I feel a bit hot. It was especially good to have this in Spain, where it was about 10 degrees hotter than at home!
Leaflets
- We did all sorts of things: drinks at a rooftop bar overlooking the Palacio Real, wandering the Reina Sofia art gallery, a trip on a cable-car over the edges of the city. In this picture, you can see a map of the Botanical Gardens, where we spent a very peaceful afternoon, and a leaflet about the Moche Art exhibition at Caixa Forum - a museum which is worth visiting just to look at the inside of the building!
If you head over to my
Instagram
, you can see a few of my favourite spots in Madrid!