Florals, as Miranda Priestley has taught us all, may be highly unoriginal for Spring, but they're delightful to wear nonetheless. With Valentine's weekend now upon us, what better excuse do you need to freshen up your wardrobe with some daffodils or carnations?
This is my first Valentine's day in a relationship, but I've always felt the need for something floaty, romantic, and classic around this time of year. A perfect floral shirt fits all of these criteria. They're versatile enough to be worn on a date, to work, out for drinks with friends, or even just to spend a peaceful Sunday afternoon reading a good book.
A lot of High Street and online stores have caught onto this lately: I've been noticing a chic floral shirt in pretty much every shop I walk into. Inspired by this resurgence in popularity and my own partiality to a good shirt, I now offer you my pick of the best on offer right now.
H&M Floral Chiffon Blouse
As you may have guessed from the fact that it's pictured above, I recently purchased
this gorgeous piece
. It's polyester, but has the feel of a slightly heavier chiffon. What drew me to it was the way the little bouquets look like they've been freshly inked on by hand. I've been wearing it with jeans so far, but am on the lookout for a smart pair of blue or pink trousers to create a smarter look.
Popbop Elegant V-neck Shirt
This
casual v-neck shirt
is a more relaxed choice: no collar, no buttons, just slip on and wear for an appropriate activity. Possible ventures which spring to mind include a trip to the cinema, trying a new coffee shop, or tending to the dahlias while solving a murder
à
la
Rosemary and Thyme
.
Vintage Art Deco Floral Shirt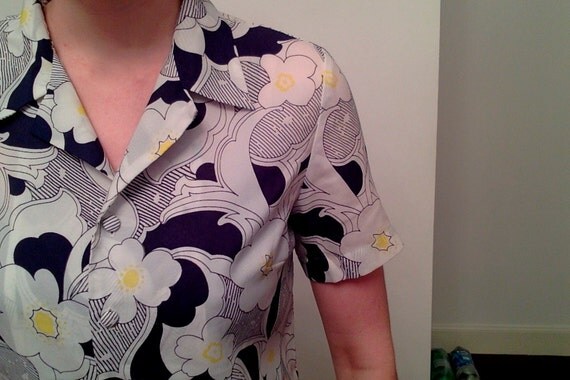 If you're looking for something a little more unique, vintage is of course the obvious route. While it can be fun to root through bargain boxes in second-hand stores, shirts are some of the most difficult items to find in good condition. Etsy sellers are a good way to find good quality vintage pieces, and if you read one of
my recent posts
, you'll know I have a special reader discount for one seller in particular. This
very cute shirt
and several others are from
Cold Hard Stitches
, where you can get 20% off by entering the code MORIARTY20
Black Scatter Floral Shirt
Warehouse has some lovely stuff in right now. If florals aren't your thing (and congrats for making it this far through this post if that's the case) there are some other gorgeous prints, my favourite being
this crane shirt
. There's also a white version of the shirt pictured above, but I thought that was a bit similar to my H&M one.
The black one
is a bit more dramatic: like a picture taken with flash at night. Great for a day out at a museum, rivaling the paintings in any art gallery.
Ivory and Blue Sleeveless Blouse
It may still be a little cold for
this one
, but that fine china print is hard to resist, and
very on-trend
. The one above is from a plus-size brand, and will look good with a pair of good jeans or a bold skirt. If you want something with a similar feel, but in a more traditional shape, there's
this more abstract one.