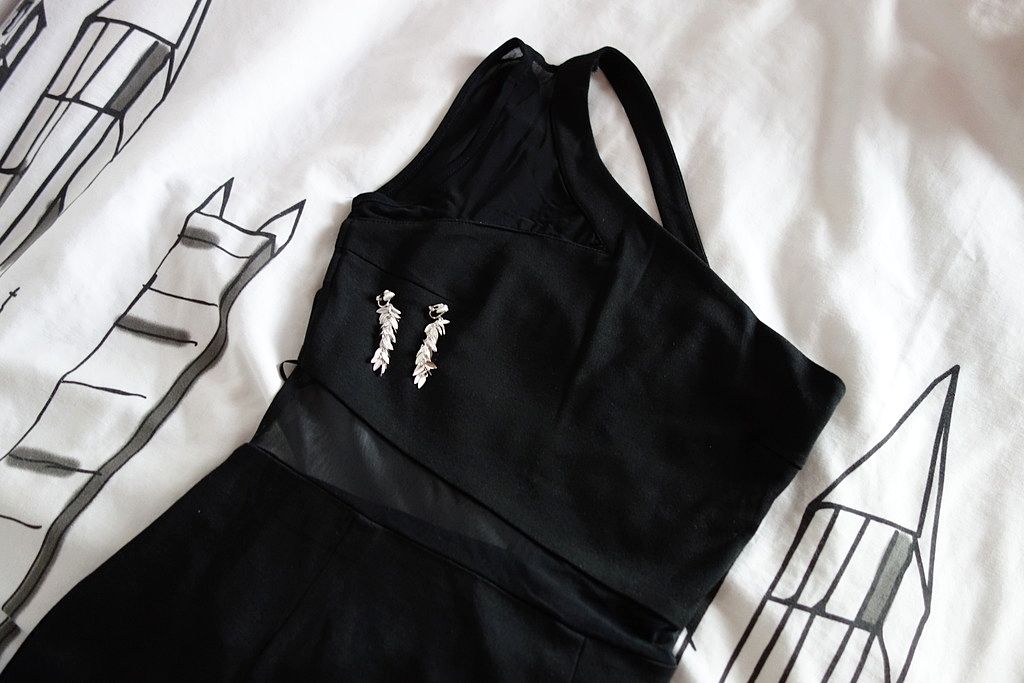 Many people are dismissive when they hear the phrase "nothing to wear". Of course, it can be a little melodramatic: all of us must have some clothes. But the people who point this out have clearly never experienced the embarrassment of feeling uncomfortable, overdressed, underdressed, or boring at an event where you'd been hoping to have a lovely time. Maybe your body's changed shape, or an old faithful is starting to look a bit dowdy, or you simply wanted something new.
This past week, I've been looking for a new outfit for various formal occasions, and having a horrible time. I'm not very tall, yet most petite lines are sparse and tend to assume that being short is the same thing as being uber-thin. I'm also finding that I want to move away from the shape I used to favour (cap sleeves, skater skirt) in favour of some sleeker cuts.
In the end, I ordered the above dress from ASOS, and paid for next-day delivery. Desperate times call for desperate postage. This was one of the few times in my life I've been really stumped, and I wanted to share some of the options I considered or took in order to get through it.
If you shop while stressed - which I don't advise, but which may be necessary - you'll start to think about just blowing loads of money in order to get it over with. Work out how much you'd normally spend on a new dress, and maybe add £5-10 to reflect that this is an emergency. I very nearly bought a dress which I knew wasn't quite what I wanted and which was at least £15 more than I wanted to spend, but budget considerations stopped me.
Get some cheap accessories
We all have our treasured favourites, but sometimes they just aren't working with the outfit we want to wear. Stock up on some cheap, fun stuff which can add a bit of sparkle to your outfit. Once I had ordered my one-shoulder dress, I went to Claire's Accessories, that tween haven of bargains, and got a £5 pair of clip-on earrings (I haven't got pierced ears). They were the easiest thing to match with a difficult neckline, and really give the outfit a pop that it wouldn't have otherwise. If you have time to order online, you can get some super cheap things from Amazon like
this box of 20 stud earrings
or
a cute hair piece
. No, none of it will be great quality, but it will be on-hand when you need to breathe life into an old or plain outfit.
Make basic alterations
If you have time, it can be very cheap to get a hem taken up by a professional. But failing that, you might have to get stuck in yourself. The dress I ordered is slightly too long on one of the straps, so I've brandished my incredibly basic sewing kit (I think it came out of a Christmas cracker) and made a decent job for now. I'll get it professionally done when I next have the chance, but it goes to show that even someone as inept at sewing as me can do a quick fix!
If you're feeling stressed about what to wear to a party, now is not the time to try and create a show-stopping outfit. When you have more time, you can plan how you're going to style that embellished pair of shorts or the gold-fringed kimono; this time around, stick to a little black dress. Try to think of some outfits which have made you feel great in the past, and restrict your search to the sweetheart neckline or Oxford shirts that you know you can wear. I was basing my search on a dress I already have, with a tight main body and lace sleeves - I just wanted something similar, but with bare arms. The ASOS one does the trick!