After three years at university, two of which I spent living in the same room, I finally packed up all my things and left my accommodation empty for the final time last week. It was not as emotional as one might expect, owing to the fact that I've been moving out at the end of every term and then moving back in again, so I had by this point cleared the room five times. Nevertheless, before I packed up (and by 'packed up' I mean unceremoniously shovelled my belongings into crates) I had time to reflect on how I had slowly adapted the small space to my own needs, and by my sixth term I had it all pretty much figured out.
So I wanted to write this post for my student readers, especially those of you heading to university for the first time this year. While your accommodation/dorm/digs/halls will not be the same size or shape as mine, there are some general rules which I learned by trial and error. These I pass on to you now, and hope they can be of some use to you in an exciting and stressful time.
Box everything up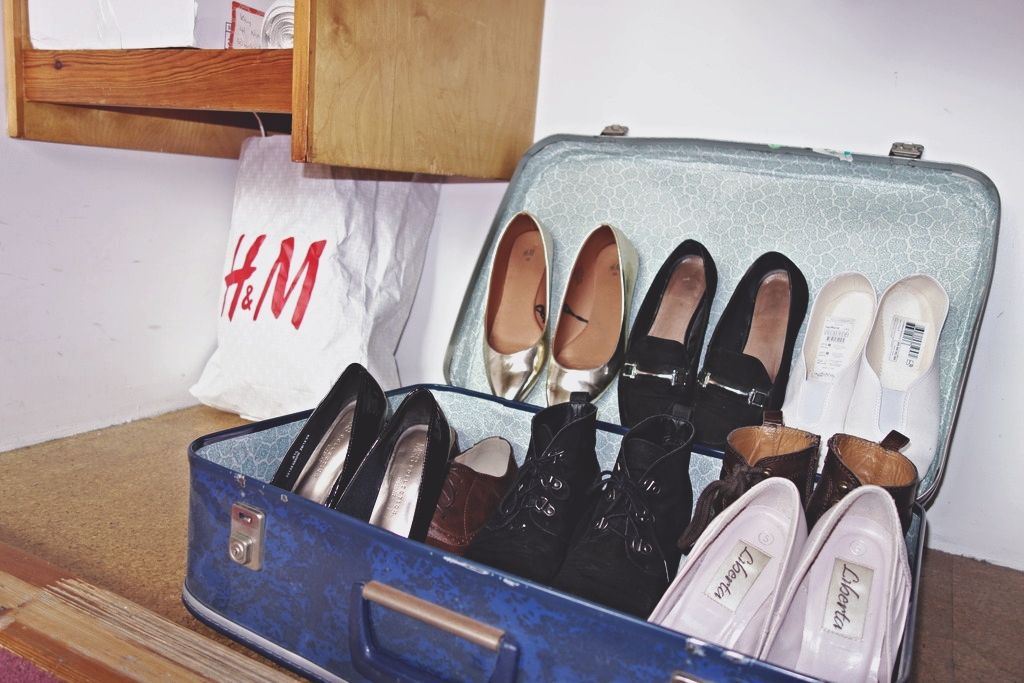 The boxes and cases in which you cart all your stuff to your new home need not cease to be useful once you arrive. Chances are, your furniture will be sparse, and the storage units not ideally placed or shaped. Your own boxes, both large and small, can double as a shoe holder (above), a make-up organiser, or a spare table. Plus they will make packing everything away much easier at the end of your residence. Ikea is always good for this type of thing, but if you're after a pretty suitcase, Sass and Belle have some reasonably priced items; I like this
world map one
.
Display favourite objects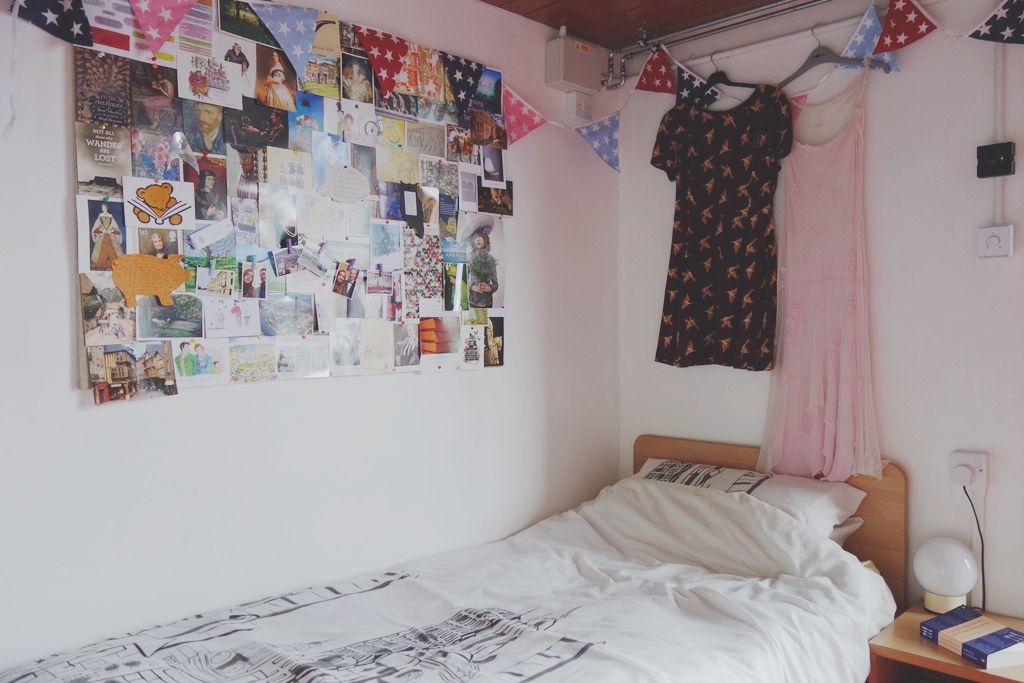 Posters are the obvious choice for injecting your room with a little personality. But if you want to break the mould or, like me, you are not actually allowed to use Blu-Tak on your walls, the alternative is to display your possessions. I adorned my walls with strings of bunting, a rotating display of favourite clothes (conveniently hung from an exposed piece of piping) and all the postcards I received during my time there. You could also try taking an ornament for your desk, a plant for the windowsill, or a much-loved teddy bear to be propped up against your pillows.
Keep bedside reading handy
During my three years, I have hardly ever had time to read for pleasure. That time which I did spend leafing through magazines or, in my first year, devouring
The Goldfinch,
ought really to have been spent more intently reading for my subject - a literature student's work is never done. Nonetheless, I would have been miserable if I had never allowed myself these indulgences. Whatsmore I would have got even less sleep: the best cure for my anxious mind was always a few pages of
Oh Comely
magazine or an excerpt from the
Lunch With the FT
collection. Get yourself something you can enjoy without analysing, and keep it nearby - just in case.
Be selective about clothes and shoes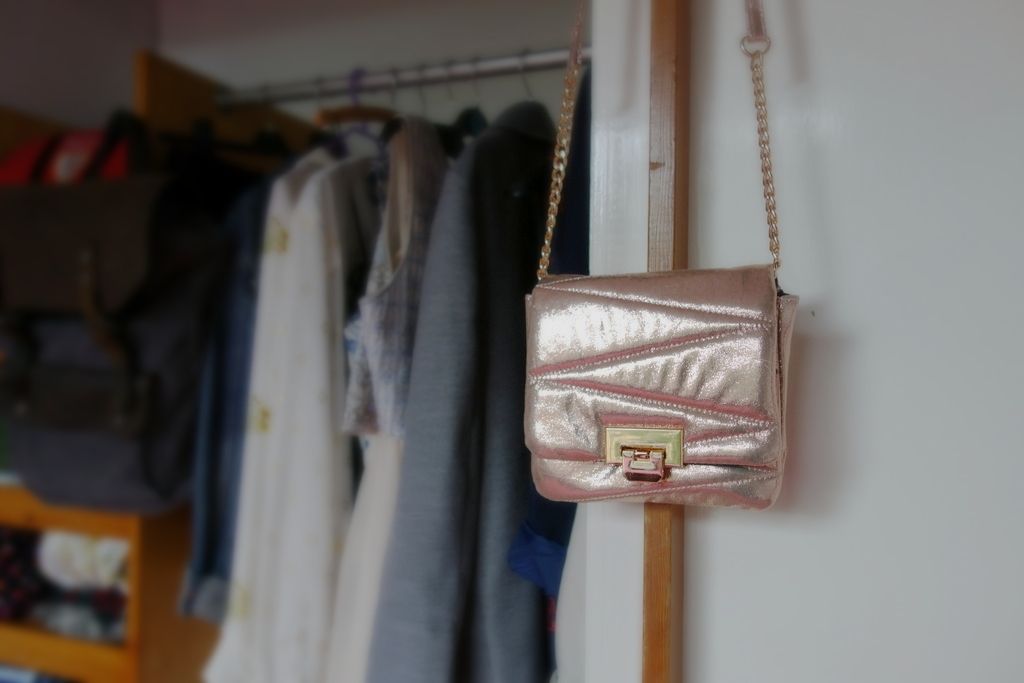 I know, I know - easier said than done. When you are preparing to leave home for the first time, you have no idea how everyone else will dress, and how many different occasions you ought to pack for. My advice is to seek as much information as you can about the social and daily life of students at your university - the best place to start will be on the website of the student newspaper. Plan a couple of outfits for specific activities - a formal drinks event, going out clubbing, coffee with classmates, attending a lecture - then build a core wardrobe around that. This will make it easier to keep your room tidy, and if you stick with a few key colours, it will also look better when hung up in your wardrobe.
Put work away when you're done
You should be able to relax in your room, and the best way to do that is to assign a place where your work materials can be put away for the night. Some people even restrict working to the library, keeping their room as a sanctuary of leisure time. This is not always possible if you live far from the library, and even with a library on my doorstep, I often don't fancy getting out of my pyjamas on days with heavy workloads. So I made a big effort in the run-up to exams to clear away what I was doing by putting it in a drawer, placing my laptop on a shelf, and collecting the folders you see above in a little basket. This is actually the front basket from my bike, but you can get
similar products
. It allows you to chill out a lot more when your notes are no longer glaring at you from the desk.
Bring cushions
As you can see, I was very lucky to have this huge windowseat, which doubled as a guest bed. I would still urge anyone to bring cushions with them, no matter what your room contains. They are useful both for making things more comfortable and for adding your own taste to the surroundings. If you have space, any extra bedding, like a cosy blanket, can really make a difference in helping you to settle in and will be useful any time you want to put a friend up for the night. If you're not sure what kind to get, try something in a classic
Laura Ashley
or
Emma Bridgwater
design. Any clothing chain with a home section will also have pretty ranges available - I like this lovely
gold-dotted
cushion from Primark.
Good luck with moving into your new homes! And enjoy your first few days - it's a clich
é
, but it really is over before you know it.