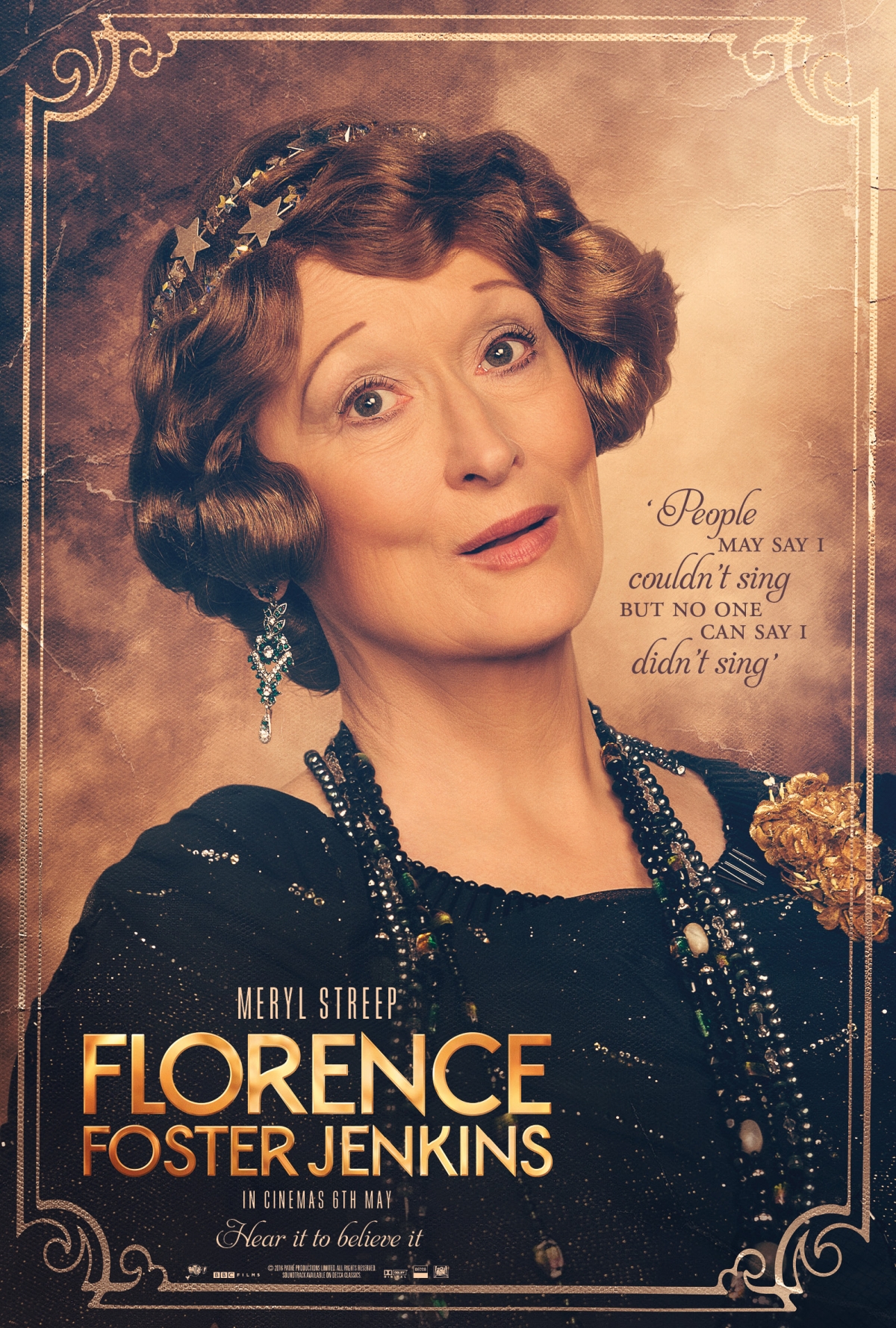 New York in the 1930s and 40s is fruitful ground for films about the arts scene. Like beachgoers expecting rain later in the day, the city represents a centre of enjoyment and frenzied innovation as war looms on the horizon. Bookending the period, we've lately had
Me and Orson Welles
(2008) and
Kill Your Darlings
(2008), both concerned with the emergence of new kinds of art, be it minimalist Shakespeare or Beat poetry. But in
Florence Foster Jenkins
we get a glimpse into the world of old art, and how it was maintained by the loyal music fans of New York, even in the face of disaster.
The eponymous Florence (Meryl Streep) was a real woman, whose love of music and inherited wealth combined in her support for the arts scene and founding of the Verdi Club. It is at this club that Stephen Frears's new film opens, taking us backstage as Florence is nervously arrayed as various operatic figures, while her failed actor partner St. Clair (Hugh Grant) compeers. From this point, it takes the film a little while to warm up. Having heard the premise of a famous singer with a lack of singing talent before attending the cinema, the audience is made to wait rather a long time to hear her sing at all. Fortunately, when this moment arrives it is hot on the heels of the entry of Simon Helberg as Cosmé McMoon, Florence's somewhat overwhelmed but ultimately faithful pianist. Helberg completes a triumvirate of accomplished central actors, and we feel in safe hands from this point on.
Much like some of Frears' other work – The Queen comes to mind – it is not immediately clear what the overarching plot will be. Instead we are presented with a series of vignettes which go deep into Florence and St Clair's marriage, and her desire to sing. These, however, lend richness to the arc when it does come to fruition in Florence's concert at Carnegie Hall. No doubt I will not be the first or last to compare Streep's performance to another of her roles as a 20th Century American woman with a happy relationship but no children: Julia Child in Julie & Julia. However if we are making this comparison, it must be said that Julie & Julia delves, I feel, a little deeper into the central character. That is not to Florence Foster Jenkins's disadvantage though, for the slight distance from Florence herself enhances our impression of the bubble she lives in. We are privy to all the secret activities and conversations of Cosmé and St. Clair as they contrive not to let Florence realise how ridiculous her singing voice really is.


Now for a word on the costumes. What struck me most was that the range of characters, some fictional and some real, allows for a full range of 1940s fashions. Florence's own wardrobe seems more like a call back to the late Edwardian age and 1920s, all loose shapes and beading, with a good helping of feathers. Her friends and members of the Verdi club follow suit, in similar frocks and strict black tie. Yet in a totally contrasting scene, possibly my favourite in the film, St. Clair's lover Kathleen (Rebecca Ferguson) throws a party in their apartment. Thus a whole different sector of New York society emerges. Kathleen herself, a teacher, sports the kind of simple tea dresses and tailored trousers which we associate most often with this period, while Agnes (Nina Arianda), lowbrow girlfriend of a Verdi club member, flies the flag for vampy dresses and big hair. The scene is a heady mix of Hugh Grant throwing shapes to Benny Goodman, mismatching fashions, and Cosmé's endearing obliviousness to the fact that some of the male guests are flirting with him.
If you want a film that is equal parts uplifting, funny, and heart-rending, it's all piled in here. The world of 1944 is brought beautifully to life, and at its core, Florence Foster Jenkins boasts three very strong performances. Simon Helberg, who you may only know from The Big Bang Theory (a personal favourite of mine, though I know it is not everyone's cup of tea) deserves a special mention. Though understated, his portrayal of Cosmé shows his ability for delicate emotion as well as the impeccable comic timing he is already known for.